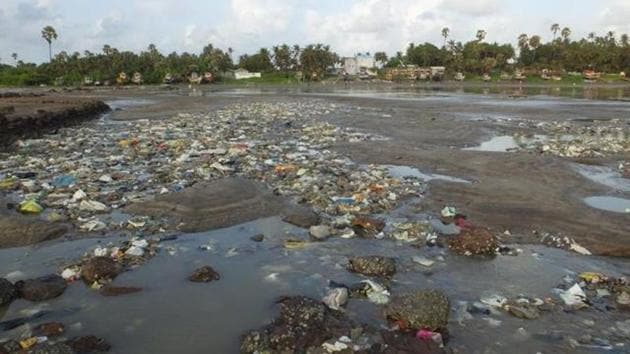 Sewage outlets flowing from Mumbai into sea must have nets, say state agencies
An affidavit has been submitted to the National Green Tribunal suggesting that the BMC should install nets to reduce contamination of sea water.
UPDATED ON JUL 13, 2018 01:10 PM IST
The state environment department, Central Pollution Control Board (CPCB) and the forest department have told the National Green Tribunal (NGT), western bench, that nets should be installed at the mouth of marine sewage outfalls and nullahs that flow into creeks to prevent trash from entering the sea. The agencies made the statement in an affidavit that was filed in reply to an application made by environment group Vanashakti to the NGT regarding installation of nets across storm water drains to catch thrash.
"Segregation of waste has become a real-time challenge for each and every local body, and therefore what the applicants have suggested is a welcome move if it can be adopted by BMC after conducting a full-fledged feasibility study. BMC is duty-bound to stop sewage and solid waste from entering the sea, and implement Maharashtra Non-Biodegradable Garbage (Control) Act, 2006," reads the affidavit drafted by Sanjay Sandanshiv, undersecretary, state environment department.
"We submitted a detailed affidavit to NGT highlighting that water bodies have comparatively higher pollution levels than other parts of the state. This is because of untreated domestic waste. Using nets, if it is technically feasible, to stop the waste at the source, will help arrest the problem," said BR Naidu, regional director (west), CPCB.
The mangrove cell of the state forest department said the issue was a serious one, which affected the health of mangroves, wetlands, and coastal ecosystems.
The agencies said that it was BMC's responsibility to ensure that solid waste was not dumped into the sea. Vanshakti said the use of nets could reduce 80% of the non-biodegradable waste from entering the sea.
"With such an easily implementable cost-effective solution available, it is a real disappointment to see the government machinery not taking interest. Beach clean-ups and mangroves clean-ups are a never ending task and a waste of human resources as prevention is better than cure," said Stalin D, director, Vanashakti.
According to the Maharashtra Pollution Control Board, discharge of untreated domestic waste accounts for 93% of pollutants in water bodies.
Close