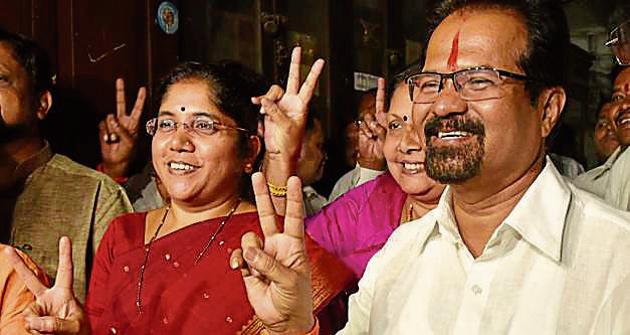 Shiv Sena's mayoral candidate is 3-time corporator, soft-spoken academician
By handpicking Mahadeshwar, an academician, Sena chief Uddhav Thackeray has preferred to go with an educated, soft-spoken face as the Sena's mayoral candidate
UPDATED ON MAR 05, 2017 12:51 AM IST
The Shiv Sena's candidate for the Mumbai mayor's post, Vishwanath Mahadeshwar, is a three-time corporator in the Mumbai civic body who was disqualified in his previous term for producing an invalid caste certificate.
Significantly, by handpicking Mahadeshwar, an academician, Sena chief Uddhav Thackeray has preferred to go with an educated, soft-spoken face as the Sena's mayoral candidate.
Mahadeshwar, who contested and won from an open ward in Santacruz (East) this time, was elected from a ward reserved for the 'Other Backward Classes' (OBC) in 2007 and could not fight his disqualification despite a long-drawn court legal battle.
However, with the Bharatiya Janata Party (BJP), which won just two seats short of the Sena in the BMC polls last month, deciding to drop out of the mayoral race, the 56-year-old Mahadeshwar's election as Mumbai's mayor on March 8 seems a more definite certainty.
The party decided Mahadeshwar's candidature after a brisk meeting of senior leaders at Thackeray's residence, Matoshree.
"There were a lot of contenders for the post. Corporators such as Ashish Chemburkar and Mangesh Satamkar, who have also contested polls to the state legislative assembly in the past, were being considered. However, we had to take seniority in BMC into consideration, along with other factors while making the decision.," a senior Shiv Sena leader who attended the meeting at Matoshree said. The Sena leadership has sought to give an educated and soft-speaking candidate for mayor's post instead of a typical, aggressive Sena nominee.
Mahadeshwar, a graduate from Matunga's Ramnarain Ruia College, with a professional post-graduate degree from BPCA's College, Wadala, has been an academician. Fellow Sena leaders know him as a polite, studious corporator whose style is more to reason with facts than show aggression on the floor.
"He knows what the limit for every situation is. He is someone known to take everyone along, with a reasoned argument," a Sena leader who has served as a corporator in the BMC at the same time as Mahadeshwar said.
The party has picked Hemangi Worlikar, a Sena corporator from Worli, who filed her nomination for the post of deputy mayor.
A three-time corporator, Mahadeshwar was first elected to the BMC in 2002, and soon became chairman of the civic education committee, and a member of the standing committee. In 2007, while Mahadeshwar contested the election from an OBC ward in Santacruz claiming to be from the 'Vaishyawani' caste, the Konkan Divisional Caste Scrutiny Committee said it was unable to establish that the elected corporator was actually from the said caste, and that the oldest documents that had probative value at best showed that Mahadeshwar was from the 'Wani' caste, which is not included in the list notified by the government as OBC.
Congress' Suryavansh Thakur who lost to Mahadeshwar in 2007, also slapped a case against the him, while Mahadeshwar challenged the caste scrutiny committee's decision. In October 2010, the Bombay high court ruled that Mahadeshwar failed to prove his caste as 'Vaishyawani,' and that his case certificate has been justly invalidated by the caste scrutiny committee.
Mahadeshwar said, "Yes, I was disqualified, but it was more about a problem with the way the state government had included the 'Vaishyawani' caste in OBC. The court noted that the government did not follow the proper procedure, while declaring the caste as OBC and struck down the government resolution."
Read
In Mumbai: Shiv Sena acts to consolidate position to seat its mayor
Sanjay Raut says Shiv Sena will bag BMC mayor post, denies approaching Congress
Devendra Fadnavis reaches out to Shiv Sena, says no BJP candidate for BMC mayor post
Close