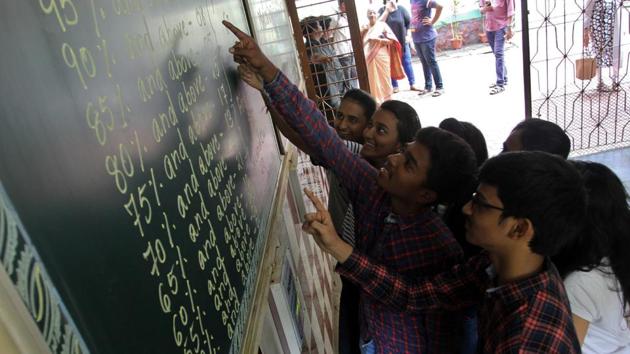 SSC results 2017: High scores will bring tough competition in FYJC admissions in Maharashtra
Mumbai city news: With 193 students across the state scoring 100% in the SSC exams and the state board generously bestowing 10 to 15 extra marks to cultural and sport enthusiasts, state board students have the edge
Hindustan Times | By Puja Pednekar& Musab Qazi
, Mumbai
UPDATED ON JUN 14, 2017 11:44 AM IST
The first year junior college (FYJC) admissions will see a tough fight between the 3.27 students who passed the Secondary School Certificate (SSC) exams on Tuesday, and their counterparts from non-state boards such as CBSE and ICSE.
With 193 students across the state scoring 100% in the SSC exams and the state board generously bestowing 10 to 15 extra marks to cultural and sport enthusiasts, state board students have a better chance.
The highest scores for class 10 in the non-state boards were between 99.2% and 99.8%.
State board students will grab the top spots in the first merit lists, said principals.
"CBSE and ICSE may have more students scoring in the 90s, but the state board surpasses them rank-wise," said Rakhi Mukherjee, principal of Utpal Shanghvi School, Juhu. Twenty-one students from the school scored above 90% this year, compared to 17, last year. The highest score is 100% with extra marks. The top score without extra marks is 96.8%.
Overall, the number of students scoring in the 90s has decreased when compared to last year. In Maharashtra, 48,470 students scored above 90%, including 10,157 from the Mumbai division, down from last year's 51, 281 and 11, 416 students. Nearly 32% students scored second class grades — between 45% and 60% — while students scoring in 80s dropped to 36,792 from last year's 44,178.
Schools said that students scoring below 97% will have a tough time. "The number of students scoring above 90% has increased from last year, but I feel that there are still not enough students in the category. I am worried about the competition from CBSE and ICSE students," said Asha Binu Kumar, principal, Vivekanand English High School, Kurla. "State board students are still lagging behind and the gap is only widening despite efforts by the state board to bring parity."
Kumar added that the boards needed to follow a uniform pattern of examination and evaluation, so that no student has undue advantage. "Every board wants to prove their mettle and they do so by finding new methods to give away more marks. It's a high time that educationists come together to find a solution to this," she said.
Additionally, many schools witnessed a dip in high scorers. "Although, there are more students scoring perfect 100s this year, there are fewer students who scored above 90%," said Albin Anthony, chief executive officer, Sacred Heart School, Kalyan.
Close