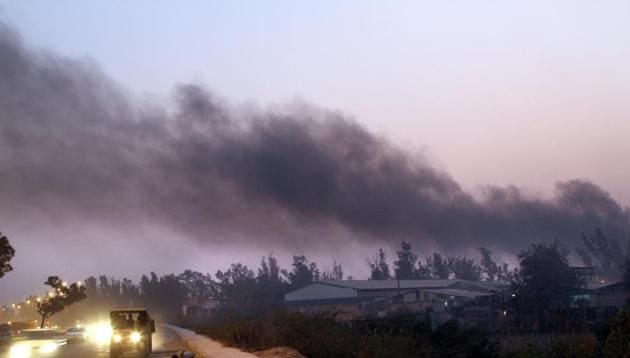 Stop polluting air, switch to eco-friendly options: BMC to bakery with wood ovens
While bakeries in the city are not prohibited from using wood and charcoal, they have to install pollution amelioration measures like scrubbers in exhaust systems.
PUBLISHED ON NOV 08, 2018 02:17 PM IST
A bakery in Girgaum which used charcoal and wood in its ovens has been asked by the municipal corporation to switch to less polluting fuels after a resident complained of air pollution.
Hemant Sukhathankar, 62, who lives next to Fernandes bakery at Bhalero Marg in Gaiwadi, said he had to undergo lung function tests and was briefly hospitalised because of the smoke from the bakery ovens.
Sukhathankar had to undergo several exchanges with various central and state agencies for three years, before the Brihanmumbai Municipal Corporation (BMC) issued a show cause notice to the bakery last week. "The bakery has violated air pollution norms and has to shift to cleaner fuel or an eco-friendly oven and install scrubbers that will absorb excess dust and carbon emissions. They need to comply with these directions or face closure," said VP Mote, assistant municipal commissioner, D ward, BMC. "A compliance inspection of the bakery has been scheduled for next week."
While bakeries in the city are not prohibited from using wood and charcoal, they have to install pollution amelioration measures like scrubbers in exhaust systems.
The bakery owners said they had reduced the number of working days to thrice a week, and had installed electric ovens. They said they were using the wood and charcoal ovens less frequently. The bakery owners also said they have installed scrubbers in the air exhaust system. "BMC directions have been complied with and we have informed the civic body. There is no pollution issue now," said Girender Singh, one of the owners of the bakery. Bakeries are third largest source (16%) of particulate matter (PM10) — small pollutant particles that can easily enter the respiratory system causing health ailments – in Mumbai. Landfilling open burning (30%) and construction activities (23%) are two top sources of PM10, according to the National Environment Engineering Research Institute (NEERI).
After complaints to the Maharashtra Pollution Control Board (MPCB) fell on deaf ears for the past three years, Sukhathankar wrote to the Prime Minister's Office (PMO) in August. "It was originally MPCB that had given permission to this bakery despite complaints. The agency never understood the gravity of the situation. It is my constitutional right to breathe clean air, which has been denied for half a decade now," Sukhathankar said.
In August, the PMO forwarded the complaint to the Central Pollution Control Board (CPCB), which asked the MPCB to take immediate action. HT has a copy of all the letters sent by central and state government agencies.
Finally, the MPCB on September 9 directed the BMC to ensure that environment-friendly measures were taken, and dust suppression mechanisms were installed by the bakery. "According to the state environment department laws, such issues need to be handled by the BMC. The bakery needs to use natural gas or electric furnaces immediately. We are overseeing this implementation," said J Sangerwar, regional officer, MPCB.
HT had first reported about this issue in May 2015 when the MPCB had asked the BMC to act against the bakery. However, the pollution problem could not be reduced then.
Close