Tiger killed on NH-6 near Nagpur, said to be Bajirao, star of Bor Wildlife Sanctuary
Updated on Dec 30, 2017 01:30 AM IST
But forest department refuses to confirm its identity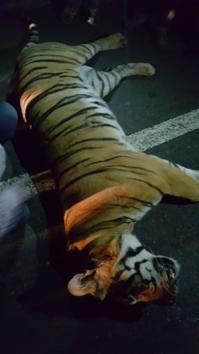 badri.chatterjee@hindustantimes.com
An eight-year-old male tiger was killed in a road accident on Friday evening, about 35 km from Nagpur near Bazargaon on the Nagpur-Amravati four-lane highway on National Highway 6. While wildlife experts identified the tiger as Bajirao, one of the most famous and oldest tigers from Bor Wildlife Sanctuary, the forest department refused to confirm its identity.
Officials from the forest department said the incident took place between 7pm and 7.30pm.
Members of Wildlife Protection Society of India (WPSI) said that the tiger was T2 or Bajirao. The Bor Wildlife Sanctuary, which spans 138.12 sq km and is located 60km from Nagpur in Wardha district. "Our field officers who went to the spot identified the tiger as Bajirao. Bajirao was the most dominant male at Bor, who had a massive territory in the area, and fathered eight to nine cubs. It is a huge loss to the Bor Wildlife Sanctuary and Maharashtra," said Nitin Desai, director, central India, WPSI adding that Bor has close to 10 tigers.
However, forest officials did not confirm the identity of the tiger. "As of now, we are not confirming or denying whether the tiger was Bajirao. However, it is a male tiger, between seven to eight years old, who came from Bor Wildlife Sanctuary," said G Mallikarjuna deputy conservator of forest, Nagpur. "The animal received severe injuries to his head and hind legs, and was killed due to the impact of the speeding vehicle. We have rushed the animal to a treatment centre in Nagpur for a post-mortem. We will only be able to declare the identity of the tiger after the post-mortem is conducted and camera trap images are matched."
Mallikarjuna added that CCTV footage from the highway would be monitored to track the vehicle that killed the animal.
Friday's incident takes the toll of tiger deaths this year in the state to 24, according to the National Tiger Conservation Authority (NTCA).
Anish Andheria, president, Wildlife Conservation Trust, also said the tiger was Bajirao. "It is a huge loss to the state as the tiger had a huge territory, right from Bor to Kalmeshwar in Nagpur, which is over 150 sq kms," he said. "The tiger could have been saved if there were underpasses at this location or any other mitigation measures at these killer roads."