TMC schools score high on quality education after infrastructure upgrade
Hindustan Times |
, Thane
Ankita G Menon
Sep 20, 2018 11:52 PM IST
Thane Municipal Corporation's education department has made use of Corporate Social Responsibility funds to give civic schools a facelift
Take a walk along the corridors of TMC school number 18 at Parabwadi and the information neatly painted on walls will tell you about countries and flags. Small diagrams on other walls give an insight into the school and the schedule.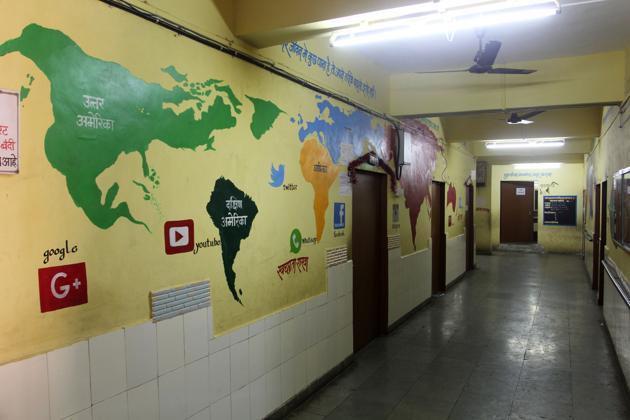 This is one of the many civic schools which have undergone a makeover in the past two years.
The Thane Municipal Corporation's education department has made use of Corporate Social Responsibility (CSR) funds to give civic schools a facelift.
The move has made the students more enthusiastic to attend class.
"We have noticed better attendance in classrooms after the colourful makeover. Also children are showing interest in subjects where special sessions are conducted for them," said Disha Vichare, teacher at a civic school in Kisan Nagar.
Corporates have helped set up digital and technology friendly classrooms and laboratory for higher classes.
Not just infrastructure but self-help organisations are focusing on improving the quality of teaching.
Some provide sessions for special children and some focus on students who are talented in art. English speaking sessions are also held for teachers and special coaching for dropouts.
A total of Rs9.76 crore corporate social responsibility funds have been used since 2015 till 2017 with an aim to improve the quality of education in municipal schools.
The TMC accepts funds from top corporates and self-help organisations to avoid delays in projects.
"Earlier, the procedure to approve budget for projects was time-consuming. However, approval for CSR funding is quick. Since the corporates handle most of the procedure, it saves us a lot of time. This also helps students and teachers to get better facilities quickly," said Vikas Repale, chairman of education committee, education department, TMC.
A visible example of the benefits of CSR initiative is the signal school at Teen Hath Naka, which has been running for three years.
"The signal school started for the children begging on the streets has gained a lot of popularity. We will soon begin a platform school in Mumbra for children loitering on the station premises," said Manish Joshi, deputy municipal commissioner, education department, TMC.
He said a skill centre for labourers has also been built. "We are working towards making Thane's civic education on a par with private institutions," Joshi said.
"Many organisations have approached us to provide stationery or meals to students of civic schools. We tell them about the requirements we have in schools and accordingly the organisations work to provide what the schools lack," added Repale.
Many TMC schools, which were in a run-down condition, have been upgraded with better infrastructure and teaching quality.
Students of Lokmanya Nagar civic school were happy getting a laboratory recently.
"Without a laboratory, it was difficult teaching science to students. There was hardly any practical training and students also would not show much interest in understanding concepts. There has been a huge improvement after a laboratory was set up," said Pranali Vaidya, teacher from the school.
Students are excited about their 'new' school.
"Our school walls have mathematical tables and cartoon figures. It is attractive and we all join in to learn tables," said Anish More, student of Vartak Nagar civic school.
"The makeover has made
a difference to learning and teaching. However, the CSR activities are time-bound and it is essential for the TMC to ensure that teaching quality keeps improving," said Vijay Bedekar, educationalist.