Upgradation work at Mumbai international airport delays 500 flights
Updated on May 21, 2018 12:13 PM IST
While 345 departing flights were delayed, with an average delay of 50 minutes, 145 arriving flights were delayed, with an average delay of 30 minutes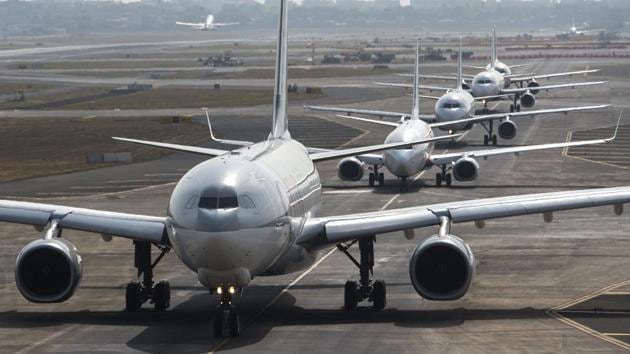 Hindustan Times |
Neha LM Tripathi
Around 500 flights were delayed on day four of the Chhatrapati Shivaji International Airport's (CSIA) upgradation of its Instrument Landing System (ILS). While 345 departing flights were delayed, with an average delay of 50 minutes, a total of 145 arriving flights were delayed, with an average delay of 30 minutes. Moreover, the main runway 27 was unavailable for operations from noon to 4pm, making flights to operate from the secondary runway 14-32. This also delayed flight movements.
While the MIAL spokesperson said one flight was cancelled, according to flightradar24, a Swedish internet-based service that shows real-time aircraft flight information, two flights were cancelled. Two flights were diverted -- Oman Air WY 203 and Indigo Gwalior- Mumbai 6E 628.
An Airports Authority of India (AAI) official said, "The spacing between two aircraft was reduced to 6 miles from the usual 7 miles on Sunday."
The official said that the spacing was reduced due to strong, gusty winds, which meant aircraft movement had further reduced. He said that by reducing the spacing, they were successful in bringing down the delay in departure and arrival of aircraft. The official said Sunday had been better than the last three days in terms of handling aircraft movement.
The main runway is inspected every day early morning. In addition to the daily inspection, regular maintenance work is also carried out on the runway. Airport officials said that the main runway is usually shut down on Mondays and Thursdays for regular repair and maintenance work. However, it will be shut for regular maintenance on Thursday and Sundays till June 10. While it will be shut between 2pm and 5pm on Thursday, it will be shut between noon and 4pm on Sundays. An airport official said, "Gusty winds played a crucial role in slowing down the flight operations."
A tweet from Jet Airways read, 'Due to the Instrument Landing System (ILS) at Mumbai Airport, Runway 27 being inoperative, we expect heavy air traffic congestion and consequential delays of up to 40 minutes on all arrivals and departures until 4pm. We regret the inconvenience'.
A passenger travelling to Coimbatore who did not wish to be named said, "I was to take off at 12.30pm along with my toddlers to land in Coimbatore around 2pm, but my flight left Mumbai airport only after 2.45pm. The display board showed the flight status to be 'Delayed'. None of the passengers were informed the reason for the delay."
"Owing to the upgradation work in the ILS at Mumbai airport, several flights have been delayed over the past few days. These delays are expected to continue for the coming weeks as well," said a spokesperson of ixigo, a travel search engine. "While leisure travel has been severely hampered, business travellers are facing a big hit. Many people travel to and from Mumbai for quick business trips that are as short as 6-8 hours. Due to the massive delays, these trips are extending to 1-2 days, leading to a considerable loss in time. We hope the situation stabilises soon, bringing relief to business and leisure travellers alike."
What is ILS?
Instrument Landing System is a standard International Civil Aviation Organisation (ICAO) precision landing aid that is used to provide guidance to aircraft for landing on the runway under normal or adverse weather conditions. ILS provides lateral and vertical guidance necessary to fly for an aircraft.
When all components of the ILS system are available, including the approved approach procedure, it enables pilots to land even if they are unable to have visual contact with the runway
What is being upgraded?
A component of the ILS 'localiser' is being upgraded (to series of 24 antennas from the current one, which has 14) so that it gives better precision to pilots to land in the city.
Close Story
Personalise your news feed. Follow trending topics