YouTuber Gaurav Taneja, who has scripted history by creating the largest map of India in the sky, talks about his feat and the challenges he braved en route


Published on Feb 02, 2023 02:24 PM IST
This video that captures a man with his pet cats aboard a flight was shared on Instagram.


Published on Feb 01, 2023 08:24 PM IST
Earlier today, Air India said it will assist the flight's pilot-in-command with an appeal against the suspension of his license by DGCA as the airline deems the action as "excessive".


Published on Jan 24, 2023 10:03 PM IST
Accused in the Air India urination case Shankar Mishra was travelling from New York to New Delhi on November 26 in the business class of an Air India flight when he allegedly urinated on an elderly woman co-passenger.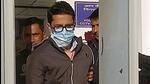 Updated on Jan 12, 2023 03:18 AM IST
Air India has already been under the scanner of aviation regulator DGCA over multiple flight incidents, including the controversial 'pee' scandal.


Updated on Jan 10, 2023 10:04 PM IST