Water hyacinth is choking the Mithi at Andheri, claims Mumbai NGO
Published on Jun 02, 2017 12:07 AM IST
Mumbai city news: Water hyacinths use up dissolved oxygen in the water, choking fish. Officials said that a team has been deployed to remove the hyacinths from the river.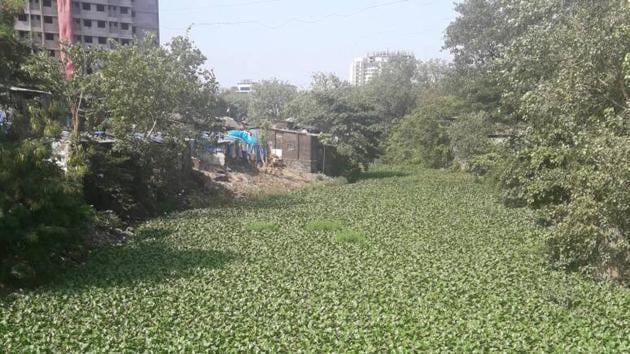 Water hyacinth - an invasive species of aquatic plants — is choking the Mithi river and obstructing its flow.
The weed is notorious for using up the dissolved oxygen in water bodies and choking fish to death, claimed Watchdog Foundation, a citizens' group. The hyacinth has spread across the river right from Ashok Nagar, Marol Military Road up to Saki Naka Bridge, Andheri, said the NGO. Mithi originates at Powai and flows 15 km through Saki Naka, Powai, Kurla and Mahim before emptying into the Mahin Creek which flows into the Arabian Sea.
"It is a matter of time before Mithi river gets completely vanishes from Mumbai's map," said Godfrey Pimenta, trustee, Watchdog Foundation. "Despite the civic body spending crores on desilting drains and rivers, their efforts at cleaning Mithi river this year is pathetic and abysmal."
Experts said that water hyacinth is a pest and which has also attacked Powai lake. "Its presence indicates that untreated sewage is present in large quantities in the water body. Water bodies in which hyacinths thrive also indicate that they have large quantities of toxic heavy metals," said Shyam Asolekar, professor of Indian Institute of Technology-Bombay (IIT-B).
Last year the Brihanmumbai Municipal Corporation spent close to Rs30 crore on cleaning Mithi river but it showed little improvement. "This river is treated like an open drain by the citizens who throe sewage, garbage and industrial waste into it," said a senior official from the state pollution control board.
Officials from BMC said that municipal commissioner Ajoy Mehta had directed them to look into the complaint. "The locations where hyacinths have come up are right next to slums. The residents dump untreated garbage into the river which aggravated the situation," a senior municipal official said. "It is difficult to remove the waste from the water body but we have deployed teams to remove the hyacinths from the river," he added.