Mumbai cops want promotion to probe cybercrimes
Hindustan Times |
, Mumbai
Manish K Pathak
Feb 22, 2016 06:53 PM IST
According to IT Act, only cybercrime police inspectors can investigate cases; over 300 are pending
With cybercrime cases rapidly increasing, leading to subsequent rise in pending cases because of shortage of staff, the Mumbai police have sent a proposal to the home department to give one-step promotion to assistant police inspector (API)— to make them police inspector (PI) —in the cyber police station so that they can be eligible to investigate the pending cases.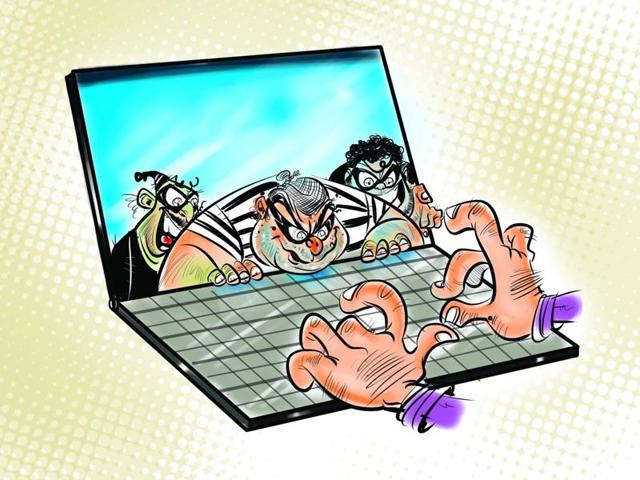 Only a PI-rank officer can investigate cybercrime cases in the state, as per the provisions in the information technology (IT) Act Section 78.
Giving step-up promotion is a common practice in the state police and side branches like anti-corruption bureau offer step-up promotion to attract officers .
According to officials in the Mumbai crime branch, they have also sent a request to the state government to make amendments to the IT Act Section 78, so that officers of the rank police sub-inspector (PSI) can also investigate the cybercrimes.
At present, there is a cyber police station in the city at BKC, and a cybercrime cell, which helps the police station by taking up important cases for investigations. As per officials, more than 300 cases are pending with the cyber police station, which functions under the crime branch, while the cyber cell functions under the economic offences wing.
A total of 933 cases of cybercrime were registered in the city in 2015, while 608 cases were registered in 2014.
The cyber police station has three police inspectors, around 13 API's. One police inspector has around 100 cases to investigate, if API's get the power to investigate cases the work load would be divided and the pendency would also come down, said an official with the Mumbai crime branch.
The crime branch also wants to set up four more cyber cells or police stations (whichever gets approval) in the four other regions in the city.
By setting up four cells in each region not just the workload would come down but even people would not have to travel all the way to BKC, the western region, to file their complaints. The police also want a training centre for personnel at the police station-level. Earlier, the police had plans to train most of the policemen in the city, though this is happening, the pace of imparting training is slow.
Additional commissioner of police (crime) KMM Prasanna confirmed that they have send the proposal to the state government asking to give step-up promotions to API so that they can investigate cybercrime cases too.