Mumbai's Cafe Madras celebrates with platinum platter, pay 20 paisa for masala dosa
Published on Nov 25, 2015 05:29 PM IST
As a part of its 75th anniversary, the restaurant took its customers along the nostalgic road with special breakfast items and inflation-free prices of the year 1940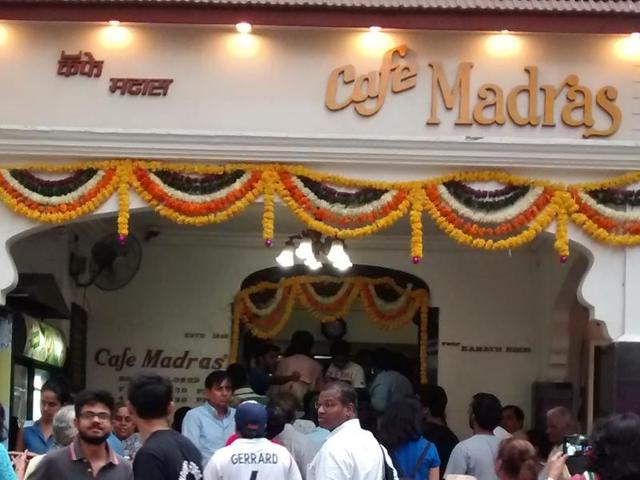 With filter coffee priced at 15 paisa, a plate of masala dosa, upma and idli priced at 20 paisa each, patrons of Cafe Madras, Matunga's landmark restaurant, walked up to a pleasant surprise on Tuesday morning.
As a part of its 75th anniversary, the restaurant took its customers along the nostalgic road with special breakfast items and inflation-free prices of the year 1940. "I have been coming here for the past 60 years. Years ago, when I used to come to the restaurant with my father, we spent only Rs3 for our meals. Seeing the same price on the menu brought back a lot of memories," said Deepak Shah, a resident of Matunga.
Since 17 years of age, Devavrat Kamath, owner of Cafe Madras, has been helping his father run the restaurant. "My grandfather had started this café in 1940. Back then, there were just four items on the menu. Now, we have more than 25 items," said Kamath.
Taking about the special celebratory offer, Kamath said, "About a decade back, a customer suggested the idea of having this special menu and prices from 1940 on the café's anniversary. It is only now that we decided to implement the idea to surprise our customers."
With word-of-mouth publicity and people taking to social networking sites to write about the special breakfast offer, the café saw great rush throughout the day. While most people waited in the queue to get a table at the jam-packed cafe, some opted to get the food parcelled. Many patrons of the cafe brought gifts and flowers to congratulate the owners. For the past 25 years, 81-year-old Prabhakar Rege, resident of Shivaji Park, Dadar, religiously visits the café twice in a day. "Every day I travel from Dadar to Matunga in a cab only to enjoy the aromatic filter coffee at Café Madras," said Rege, who was seen enjoying south Indian snacks with his family.
For the past 25 years, Vasant Shetty, resident of Bandra has been visiting the café thrice a week. "Nothing has changed since the first time I visted the café. The food has the same consistency and texture," said Shetty.
Personalise your news feed. Follow trending topics