Ulhas river pollution: Green tribunal directs Centre to intervene
Apr 04, 2016 11:12 PM IST
As the Maharashtra Pollution Control Board (MPCB) failed to stop the flow of untreated industrial waste into Ulhas river, the National Green Tribunal (NGT) directed the Union environment ministry (MoEF) to intervene in the matter
As the Maharashtra Pollution Control Board (MPCB) failed to stop the flow of untreated industrial waste into Ulhas river, the National Green Tribunal (NGT) directed the Union environment ministry (MoEF) to intervene in the matter.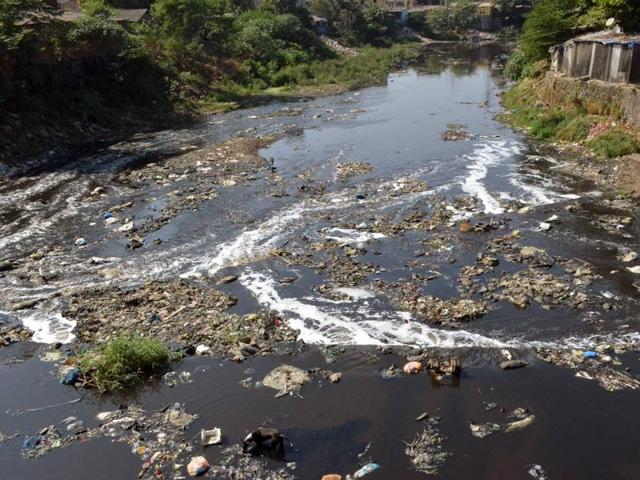 "The MoEF has been directed to first issue show-cause notice to the MPCB to give them an opportunity to scrupulously discharge its statutory functions in the matter relating to enforcement of provisions of the Water (Prevention & Control of Pollution) Act, 1974," read the order by justice Jawad Rahim and expert member DK Agrawal.
The western bench of the tribunal ordered the MoEF to seek an explanation from the state pollution control board as to why the Central Pollution Control Board (CPCB) should not take its functions.
The tribunal directed the MoEF secretary to submit an action taken report in three weeks.
In 2013, non-governmental organisation Vanashakti filed a petition with the NGT asking it to direct MPCB to shut polluting industries.
In its compliance report filed last month based on the July 2015 directions of the tribunal, CPCB found that only one of the five common effluent treatment plants (CETPs) in Ambernath and Dombivli met the quality standards.
Taking note of the MPCB's failure, the CPCB last week requested that it be allowed to continue monitoring CETPs. It requested the tribunal to allow it to conduct random inspection of major industries on quarterly basis, instead of monthly, "till the action plan for CETPs' performance improvement and standards are complied with".
The CPCB asked the tribunal to direct the MPBC to submit short-term and long-term plans to the agency to achieve compliance of standards by CETPs and names of major industries in the area.
The MPCB refused to give an undertaking to the tribunal that it would adhere to the decision of the joint inspection committee.
"She (counsel for MPCB) has submitted that she has been instructed that the MPCB is not willing to give any undertaking but that it will make all efforts to ensure compliance of decisions taken in the joint meeting of MPCB and CPCB officers," read the interim report.
The tribunal said that the CPCB had neither inspected nor taken action against erring industries or CETPs but has instead "sought directions from the tribunal to obtain action plan from MPCB, which it could have sought directly using powers under the Water Act, 1974".
In March, the tribunal had directed joint inspection of all CETPs by the central and state pollution control boards.