Aretha Franklin, undisputed Queen of Soul, dead at 76; industry pays tribute
Legendary soul singer Aretha Franklin has died at the age of 76, her family said in a statement.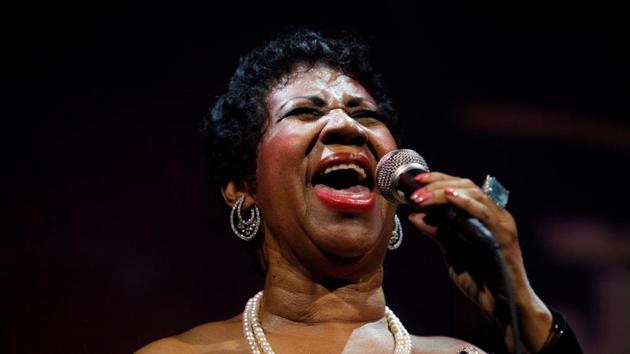 Updated on Aug 16, 2018 08:28 PM IST
Aretha Franklin, the undisputed Queen of Soul who sang with matchless style on such classics as Think, 'I Say a Little Prayer and her signature song, Respect, and stood as a cultural icon around the globe, has died at age 76 from advance pancreatic cancer.
Publicist Gwendolyn Quinn tells The Associated Press through a family statement that Franklin, who won 18 Grammys and had some 25 gold records, passed Thursday at 9:50 am at her home in Detroit. The statement said "Franklin's official cause of death was due to advance pancreatic cancer of the neuroendocrine type, which was confirmed by Franklin's oncologist, Dr Philip Phillips of Karmanos Cancer Institute" in Detroit.
The family added: "In one of the darkest moments of our lives, we are not able to find the appropriate words to express the pain in our heart. We have lost the matriarch and rock of our family."
The statement continued: "We have been deeply touched by the incredible outpouring of love and support we have received from close friends, supporters and fans all around the world. Thank you for your compassion and prayers. We have felt your love for Aretha and it brings us comfort to know that her legacy will live on. As we grieve, we ask that you respect our privacy during this difficult time."
Funeral arrangements will be announced in the coming days.
Franklin, who had battled undisclosed health issues in recent years, had in 2017 announced her retirement from touring.
A professional singer and accomplished pianist by her late teens, a superstar by her mid-20s, Franklin had long ago settled any arguments over who was the greatest popular vocalist of her time. Her gifts, natural and acquired, were a multi-octave mezzo-soprano, gospel passion and training worthy of a preacher's daughter, taste sophisticated and eccentric, and the courage to channel private pain into liberating song.
Rolling Stone magazine put her version of Respect in the top five greatest songs of all time, saying Franklin was a "woman calling an end to the exhaustion and sacrifice of a raw deal with scorching sexual authority."
Close Story