Here's how this Nigerian singer killed it with his version of Lollipop Lagelu
Updated on Jul 04, 2017 05:33 PM IST
With Rajnikanth as his inspiration and Lungi Dance on his mind, it seems like Samuel Singh is the next big thing on social media. He tells us what gets him in the desi groove.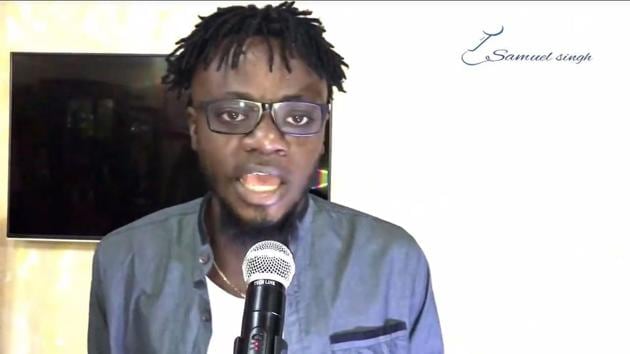 Tu lagaweli jab lipishtick , hilela Arra dishtric — can't get over this tune? Well, get set to be obsessed! The Bhojpuri track has found a fan in this 26-year-old Nigeria resident, and we can't keep calm! Samuel Adepoju, aka Samuel Singh has covered the song, originally sung by Pawan Singh. Up on his Facebook profile for only ta couple of days, the video already has more than 10,000 shares on Facebook . Where did he hear the song first? In India, of course.
"I first heard the song during my college days in Jaipur when I participated in a cultural event. A friend from Chile had recommended the song to me and said I could wow a crowd if I sang Lollipop Lagelu. He taught me the chorus and within a few minutes, I'd gotten the hang of it. That performance had gotten me the loudest cheers I've ever received."
Did the lyrics boggle his brain? "I'm not sure about the meaning of the song but I have heard that it's usually played in a lot of marriage ceremonies in and around Bihar. Learning the pronunciation wasn't hard as I know a bit of Hindi and tried to relate it to that," he explains.
While Bhojpuri might not be his jam, are there any Hindi words that he knows?
"Oh, the basic survival lingo: Namaste ji, aap sunder hain, pyas lagi hain, mujhe bhuk lagi hain," he says.

And Lollipop Lagelu is not his only desi cover. Apart from Bhojpuri, he's gotten his Punjabi game on point too. Brown Rang by Honey Singh is his other musical achievement. And Samuel's story is not only lyrically-perfect, it is also inspirational. He was first introduced to Indian music when he was in the country for cancer treatment. "The country (India) is filled with good music from good people. Listening to Indian songs during my treatment, I would find myself at peace — feeling happy and sad at the same time," he adds. "And even though the treatment took away my left hand, I got through the tough period thanks to every friend I made in India during my medical and educational stay."
An entrepreneur by profession, Samuel is a self-confessed fan of paneer and buttered roti. "That combination feels like a married couple!" he jokes. Talking about the next song that's on his mind for a cover, Samuel says, "Lungi Dance on African drums is strongly on my mind but let's wait and see. I want to thank Rajnikanth for making this possible as I've seen that in every amazing thing, there's credit to him. And an African so deep into Indian culture is nothing short of amazing," he finishes.
Close Story
Personalise your news feed. Follow trending topics