I want to save people from heartache: Puddle of Mudd's Wes Scantlin
Updated on Oct 13, 2015 06:18 PM IST
Puddle of Mudd lead singer Wes Scantlin says he wants to save people from heartache just like U2 and Pearl Jam saved him. He also talks about allegations of lip-syncing a live concert in Sri Lanka.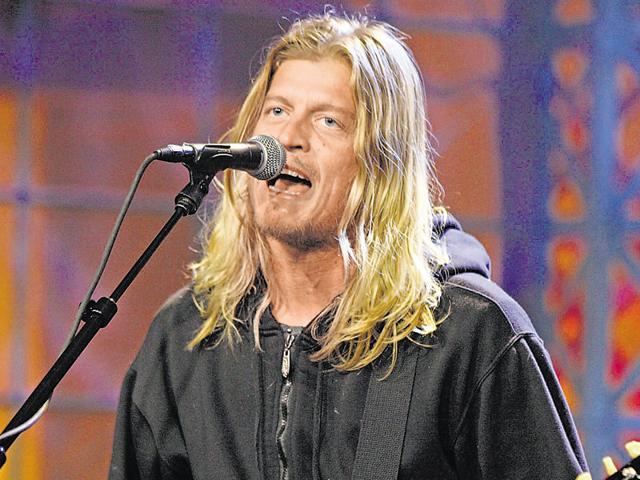 Hindustan Times |
, New Delhi
Sapna Mathur
They have bagged several Billboard Music Awards, and have topped the music charts countless times. However, not much has been constant about the popular American alternative-rock band, Puddle Of Mudd, except for their success and the group's lead vocalist, Wesley Scantlin. Since their inception in 1991 in Kansas City, USA, the band has undergone a sea of change in terms of its members.
Recently, the award-winning band performed at Hard Rock Cafe, Worli. Before the concert, we met Scantlin, who spoke to us about the band's recent controversy with regard to lip-syncing at a gig, the rise of the Internet as a platform for musicians, collaborating with artistes, and more.
You recently tweeted that you are recording a new album with music producer Cameron Webb. What's the status of the project?
We will have about 12 to 13 songs on it. I have to keep recording. There's been a long gap. But, you have to go through a little bit of life; figure out what's going on in the world, and then connect to people. I am trying to reach out to the audience's hearts and souls. I want to save people from heartache, like U2 and Pearl Jam saved my life. I know it sounds strange, but it's true.
Listen to Puddle of Mudd perform Gimme Shelter by the Rolling Stones here
In the past, your albums have sold millions of copies. But not many people buy music nowadays. What do you feel about this trend?
I think the Internet is a super amazing thing that any artiste can harness. It might take a little money out of my pocket, but if my music reaches people, I think it's worth way more than the money. If you don't like it, you might as well dig a hole. There's nothing more you can do about it.
Have you ever felt pressurised to deliver hit songs?
When it comes to writing hits, it's really about simplicity. I've topped the charts around 12 times. I'm not bragging about it. It's about working with different kinds of people, and being inspired by them. There's no pressure. It's a process that involves sharing with other musicians.
You were accused of lip-syncing at your concert in Colombo, Sri Lanka, last month...
I don't understand what these people are talking about. Give me a break; we were all singing. If they don't want us to come back, then f*** it, we won't go back. They can kiss my a**.
Listen to Puddle of Mudd perform She Hates Me here
Personalise your news feed. Follow trending topics