Indian Ocean on finding music for Masaan on the banks of Ganga
Jul 24, 2015 03:35 PM IST
They sailed down the Ganges in a boat, and ate gulab jamuns and apple pie in Benares. Indian Ocean and writer-lyricist Varun Grover on creating Masaan's soundtrack.
If Masaan is a film with a heart, its soundtrack is music with a soul. A trademark Indian Ocean sound coupled with Varun Grover's beautiful writing makes for a winning combination. Ahead of the Neeraj Ghaywan-directed film's release, we catch up with Indian Ocean's members and Varun Grover. The camaraderie between the members is evident in the way they poke fun at each other and guffaw.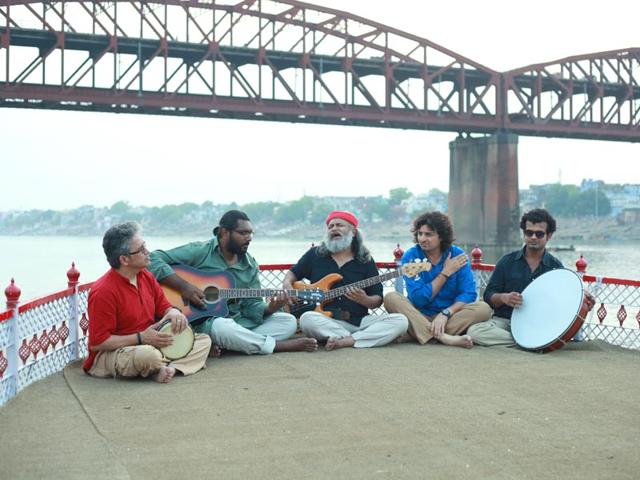 Rahul Ram (bass guitar, vocals) and Amit Kilam (drums, percussion and vocals) prove to be the chattiest of the lot. Himanshu Joshi (vocals) and Nikhil Rao (guitar) speak only when spoken to, while Tuheen Chakravorty (tabla and other percussions) has the remarkable ability to steer any conversation to gulab jamuns.
Stay tuned with breaking news on HT Channel on Facebook.
Join Now
This is your first collaboration. How was it working with each other?

Amit: I was pleasantly surprised by Varun's writing. I don't think many people are capable of such amazing lyrics. I'm sure we'll create something wonderful with him again.
Varun: Indian Ocean is like a big family. All of them are such diverse personalities with their own interests. For instance, Nikhil reads strange books and watches movies like Gunda (the 1998 Mithun Chakraborty-starring potboiler). On the other hand, he talks about theories of evolution and anthropology. More than music, we'd talk about these kind of things.
What was Neeraj's brief for the music?
Rahul: The first song to take shape was Tu Kisi Rail Si Guzarti Hai. It took five iterations before we came up with the final tune. The brief kept changing.
Amit: There was a lot of confusion. Maybe we weren't getting it, or maybe the team wasn't able to explain it to us.
Rahul: Amit came up with the tune of Mann Kasturi while waiting at a traffic signal. He kept refusing to sing it, though. But we insisted. Also, I really wanted to sing Tu Kisi… But Varun and Neeraj refused saying, 'your voice is old; we don't want oldies to sing'. Finally they got Swanand Kirkire to sing it… as if he's young.
Varun: At least he dyes his hair (all the members burst into laughter).
What about the third and the final song, Bhor?
Rahul: We thought of using a version of Bhor (an existing Indian Ocean song) as it seemed to go with the ending. The song was fun to record because we went into our zone and sang it.
Himanshu: It was like an unplugged version. It was fun making the many versions. Those tunes will stay in our minds and we'll use them some day.

Nikhil and Tuheen, what was your experience making music for a film?
Nikhil: This was my first time. I learnt a lot about how music is cut to film and film is cut to music. These guys (Masaan's crew) were great. And Neeraj makes really good mutton; he once called us home for a meal.
Tuheen: Everybody else has spoken about the music, but since Nikhil has brought the conversation to food, they had great gulab jamuns there (in Benares, where the film was shot). You can ask me any question, I'll divert it to gulab jamuns.
You shot a music video for Mann Kasturi on a boat on the Ganges. What was that like?
Nikhil: The brief given to us was, 'Sing the song and be yourself.' I don't think we were very good at that. We finished one leg of the shoot at night and the other at five the next morning. They didn't want to use the new stadium-like lights that have come up at the ghat.
Tuheen: It was a lot of fun (Rahul interrupts saying "gulab jamun"; there's laughter). It took us one and a half day to shoot a three-minute song. I can't imagine how it would be to make a three-hour film.
Himanshu: Also, we went to Pizzeria Vaatika Café at Benares.
Varun: Did you try the apple pie there?
Rahul: And we're back to talking about food.
Tu Kisi Rail Si Guzarti Hai is inspired by Dushyant Kumar's ghazal, Main Jise Odhta Bichhata Hoon. Varun, what made you use the couplet in the song? It's not really romantic.
Varun: That's exactly why it stayed with me. It's a very mechanical metaphor. It's rooted in the kind of India I have seen growing up, where train travel is a common thing. It evokes an imagery that one can immediately connect with. Secondly, the song is about dekha-dekhi in a fair. You aren't communicating with words but through your eyes.
You studied at the Banaras Hindu University. Did that help while writing the script, screenplay and lyrics?
Varun: Not just Benares, growing up in north India, in general, helped. Coming from Lucknow, I knew there isn't much difference in the moral outlook of the two cities; that's what the film deals with. I know Benares like the back of my hand. That helped in adding more details to the script.
Varun Grover