Salman Khan joked and people took it seriously: AR Rahman
Salman Khan recently said that Rahman was an "average composer". The musician now says that it was a joke and people took it very seriously: "He (Salman) called up the next day and even clarified it. He was very kind. He even asked me to score for a couple of his movies."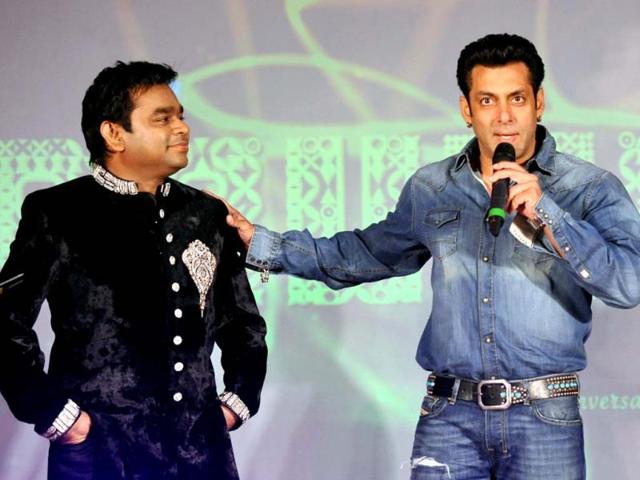 Updated on May 05, 2014 11:30 AM IST
A few months ago, at musician
's album launch, Salman Khan commented that the composer was "average".
A lot was said and written about the actor's statement. However, the musician brushes off these reports saying, "I think it was a joke, and people took it very seriously. He (Salman) called up the next day and even clarified it. He was very kind. He even asked me to score for a couple of his movies. I am just thinking about it."
Despite being flooded with work, composer
remains jovial. He tells us about creating the background score for an upcoming Hollywood film, procrastinating at work to find better ideas, and how Indian singers haven't got recognition in the west yet.
READ: SALMAN KHAN CALLS RAHMAN AN AVERAGE COMPOSER
How was your experience of working on the background score for Million Dollar Arm?
Working in Hollywood is like a holiday because I do one thing at a time there, and seven things back home. I'm getting used to working there, but the travelling is exhausting. However, I had fun working on this film.
What was the brief given to you?
Usually, they send the script or I wait for the first cut to come in. I got to see some uncut scenes to get an idea about the film. (On the other hand) Indian films have a narration and songs are needed beforehand. They come for the background score after they have wrapped up the shoot. It's a two-year process whereas in Hollywood it's a three-month process.
Do you face any criticism regarding your work?
It's mostly about meeting deadlines, but it's a system that I have to get used to. Sometimes I procrastinate certain things till the last minute in order to find better ideas.
Have you heard any of Priyanka Chopra's singles?
I have heard a couple of them.
Do you think Indian talent is getting recognition in the west?
Not to a high level. But Anoushka (Shankar) is famous, and in a good way. For pop music, it (recognition) will happen when it must.
Do you plan to release singles or collaborate with anyone in the west?
I am so drained with my film work that I haven't been able to finish my album. I still have four more songs to finalise for it. I also have lots of movies where I have to work with a team, which is more exciting, as singles mean that the responsibility is on your shoulders.
Close Story