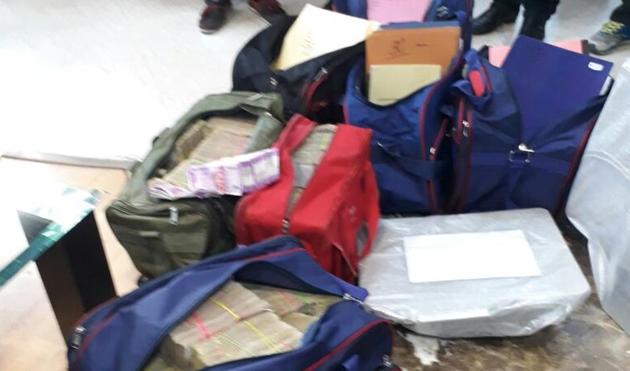 Authorities raid Noida firm that illegally diverted gold worth Rs 140 crore
A Noida-based company allegedly diverted or sold 430 kg of gold worth Rs 140 crore.
UPDATED ON DEC 25, 2016 01:22 AM IST
A directorate of revenue intelligence (DRI) team conducted random searches at a Noida-based company's premises on December 22 and seized about Rs 2.60 crore 00Rs 2.48 crore in old notes and Rs 12 lakh in new currency.
The team was acting on information about an alleged diversion and illegal sale of duty-free gold imported under the special economic zone (SEZ) scheme.
During the investigation, it was found that the company allegedly diverted or sold 430 kg of gold worth Rs 140 crore.
In a statement, the DRI team said, "It is found that the unit has illegally diverted 430 kg (valued at around Rs 140 crore) of duty- free gold in the open market and investigation is underway."
"Besides, cash amounting to Rs 2.60 crore (Rs 2.48 crore in old currency and Rs 12 lakh in new currency) has been seized also," the statement said further.
The statement said that during the raid, which began on December 22 and continued till December 23, an unaccounted 80kg of silver was also found in the factory premises of the SEZ unit in Noida.
According to DRI, while directors of the firm are either admitted in hospital or avoiding investigation, two people have been intercepted for questioning.
Investigation, till now, revealed that the firm has also transferred huge amounts of money through real-time gross settlement systems (RTGS ) to a firm operating from their premises to purchase gold coins/bars worth 25 kg after November 8 from trading body MMTC.
Officials said further investigation is in progress with the likelihood of arrests.
Despite repeated attempts, the company's officials refused to comment on the issue.
In a similar raid on December 19, DRI had unearthed a major export fraud by a unit, manufacturing and processing gold jewellery in SEZ in Noida.
"During that raid, it was revealed that more than Rs 150 crore worth of imported duty-free bullion had been diverted. Searches are being conducted at multiple locations to investigate the diversion of imported gold with domestic and international linkages of the gold-smuggling network," said a DRI official.
Close