Coming soon: A smartphone app to save trees
Principal secretary, department of environment, UP, has asked Gautam Budh Nagar divisional forest officer to curb tree felling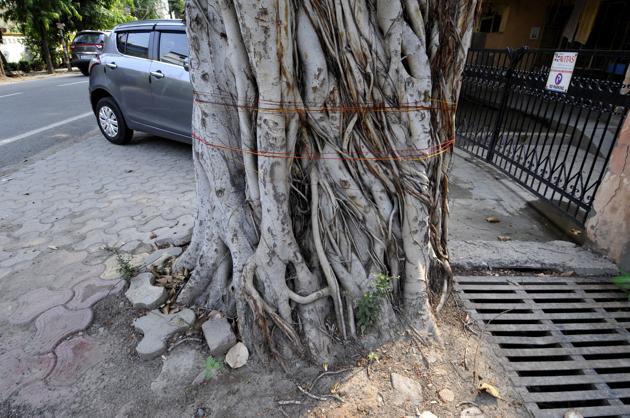 Updated on Jun 01, 2017 11:52 PM IST
The Uttar Pradesh forest and environment department has decided to protect trees through a smart mobile application to be launched soon by chief minister Yogi Adityanath.
Tree felling is rampant in areas including Noida and Greater Noida and officials are unable to act against those cutting trees mindlessly for frivolous reasons because it is not easy to identify offenders.
In Noida and Greater Noida, trees are being cut for developmental projects, often without permission from the forest department. Even residents cut trees to make way for parking space. The forest department, in many cases, do not get to know about tree felling instances as there are no complaints lodged.
"Many a time, people do not file a complaint because the process is tedious. We have decided to come up with an app to make filing of the complaint easier. The app will be available on Google Playstore. Anyone can click a picture of a tree being cut, mark the location and send it on the app. Our department will act swiftly," said Sanjeev Saran, principal secretary, department of environment, Uttar Pradesh.
Saran has directed Gautam Budh Nagar divisional forest officer to act against those chopping trees indiscriminately.
"Delhi-NCR is struggling to mitigate air pollution. Tree plantation and protection of trees is the best way to fight pollution. With the help of technology, we can protect trees in a better way," said Saran.
With the help of the app, the forest department will act against those who damage or cut trees.
"We will ensure no tree is cut without permission," said HV Girish DFO, Gautam Budh Nagar.
To mitigate air pollution, the Gautam Budh Nagar forest department and other government agencies including the Noida authority have decided to plant 4,65,000 trees in the district before monsoon arrives. They have also launched an email id — dfonoida@gmail.com and a toll-free number — 8130212439, to enable residents to share their throughts and ideas on preserving trees.
"They would invited to take part in a plantation drive which is scheduled sometime in July. They can suggest places and the variety of trees to be planted and offer tips for protecting them," the DFO added.
Read I Felling of trees comes in the way of Old Delhi-Gurgaon road expansion
In order to protect trees, the National Green Tribunal, had, on April 23, 3013, ordered removal of nails, hooks, rods, boards and advertisements from trees. The local authorities including UP forest department, allegedly failed to implement the order at all.
The Uttar Pradesh Protection of Trees in Rural and Hill Areas Act, 1976 said nailing or damaging a tree would attract a jail term up to one year or a fine of up to ₹500 or both.
Close Story