Ghaziabad district administration proposes scanners, geo-fencing to check illegal sand mining
Jan 09, 2018 05:48 PM IST
Sand mine lease holders will have to abide by strict conditions, including installing 360-degree CCTV cameras, RFD scanners and conducting checks on digging the river bed more than three metres, before starting to execute the agreement
The sand mining lease holders will have to abide by strict conditions before starting to execute the agreement, officials said, adding that this will help curb mining beyond the limit specified in the agreement.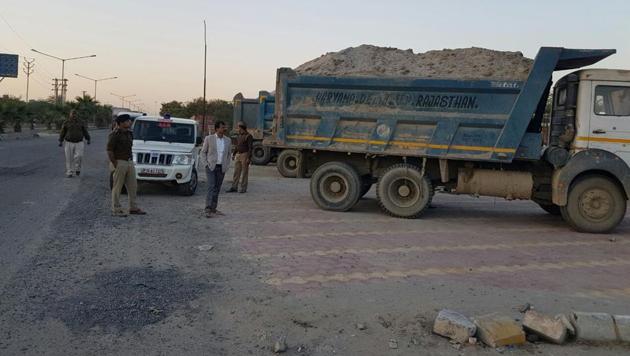 These conditions include putting 360-degree CCTVs, installing RFD scanners and checks on mining activity beyond limits at the site.
"The government is planning geo-fencing the sites; a remote sensing agency will be keeping a tab on the mining sites and will inform if sand is being mined beyond the specified limit. The proposal is being considered by the government," district mining officer Ashish Kumar said.
"The lease holders will be able to dig up only up to a depth of three metres and will have to submit a mining plan before obtaining their environment clearances (EC). The sites over five hectares will be given EC by the state environment impact assessment authority while the smaller sites will be given ECs by the district authority," he added.
Once the sites are given required clearances, the mining department will demarcate the land and the mining work can start.
The officials said that in order to curb illegal mining, they also have several areas like Badarpur, Ilaychipur and others, under scanner.
In financial year 2016-2017, state officials seized 30 vehicles involved in illegal mining; in this financial year, they have seized 58 trucks so far. Out of the 58 vehicles seized, the officials lodged cases in 25 instances at the judicial courts while levying heavy penalties on others.
Under the proposed arrangement, the form MM-11, which is taken along in transport vehicles, will now be generated online and will have a digital code which will be scanned at the site.
Official sources said that earlier drivers misused the manual MM-11 form and took it without filling in several cases. They used the same form for transportation of sand during different trips, they said, adding that since the forms will now be generated online and have bar codes, their misuse is likely to be curbed to a major extent.
According to new norms rolled out by the UP government in August, 2017, the compounding of offences will involve payment of royalty of the seized stock, five times more penalty of the royalty amount and a further financial penalty of ₹25000, over and above.