Ghaziabad police arrest two shooters of Anil Dujana gang
Published on Sep 25, 2016 12:59 AM IST
The duo was wanted in several cases, including two recent murders at Dadri, Greater Noida and at Ghaziabad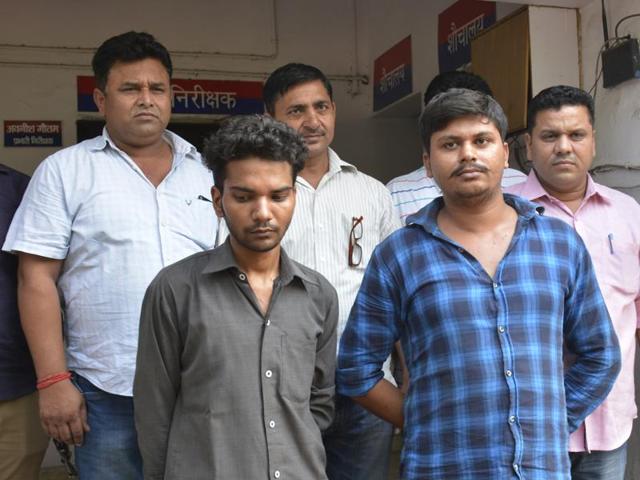 The Ghaziabad police arrested two sharp shooters associated with the dreaded Anil Dujana gang on Saturday. The duo was wanted in several cases, including two recent murders at Dadri, Greater Noida and at Ghaziabad where they killed a chaat vendor in a case of road rage.
Police arrested Yogesh Singh Jatav alias Bacchi and Ashish Chauhan, and recovered a stolen Ford-Ecosport and a bike from them. Both men are from Dadri in Gautam Budh Nagar.
Following their arrest, they told police that they were involved in the murder of a jewellers' association office bearer, Arun Kumar, at Dadri in July. Police said Chauhan was named in the murder and other accused were unidentified.
"The accused said they murdered the jeweller after a verbal fight with him.They denied any motive and said they did not demand money from the jeweller. We recovered the bike used during the murder on Saturday. Apart from the murder, they also admitted that they shot dead a chaat vendor near old bus stand in a case of road rage after the vendor denied them food as they were drunk and misbehaving," Rajesh Kumar, officiating
superintendent of police (city), said.
Ganga Singh, the vendor, was shot dead by the two armed men in June after his cart hit their bike and an altercation ensued. Police said it was the same bike that was used by the duo in the Dadri murder.
A car stolen from Rajasthan was also recovered from their possession. They changed the registration number of the car, police said.
Police said Yogesh admitted that he accompanied Anil Dujana for the murder of a trader in 2012 at Chapar in Muzaffarnagar.
"He said he was driving the car when the murder took place and Dujana was also in the car. He said that an AK-47 was used for the murder after Dujana was denied Rs. 5 crore hafta (extortion money) by a trader. Yogesh had also been to jail thrice and has a dozen cases of various heinous crimes against him," Kumar said
Personalise your news feed. Follow trending topics