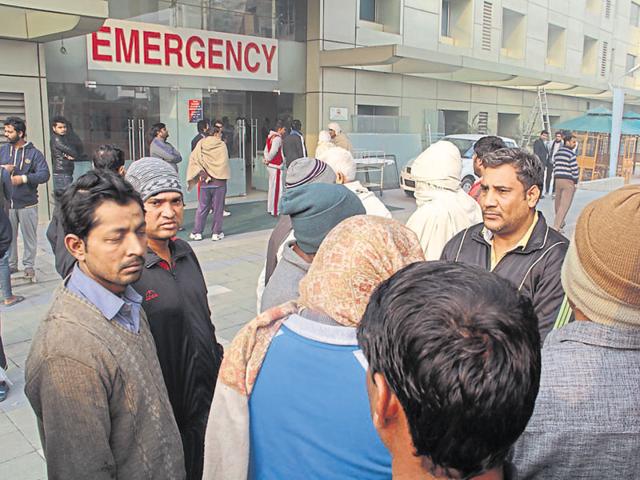 Ghaziabad SHOs warned after pradhan attacked
A newly-elected village head was shot at by two unidentified bikers. Senior police officers of the district have warned SHOs to keep post-Panchayat poll rivalries in check.
UPDATED ON DEC 24, 2015 07:07 PM IST
Senior police officials have warned all station house officers (SHOs) in the district that they would face suspension if they fail to check any rivalries emerging after the recent Panchayat elections in the district.
Ghaziabad's acting senior superintendent of police (SSP) Ajay Pal on Wednesday said that all the SHOs should be taking steps to keep such rivalries in check.
The directions were issued after a 53-year-old newly-elected gram pradhan (village head) from Tila Shahbazpur village was shot by two unidentified bikers on Wednesday morning.
"The officials have been told to prevent any such incident in the post Panchayat-poll environment. They have been asked to hold meetings with winning and losing candidates and assess the situation on the ground. If any more of such incidents come to light, the SHO concerned will stand suspended," said Pal.
The shooting incident that triggered the warning took place at around 8.30 am on Wednesday when newly-elected Pradhan Om Veer Singh was speaking to a couple of people in his locality. According to the police, the two unidentified bikers arrived and asked for the address of the pradhan, to which Singh told them that he is the pradhan.
"The bikers fired at him from a close range but the bullet brushed past his head as he ducked to avoid the gunshot. They fired another shot that hit him on the chest, injuring him. The bikers then fled," Pal said.
The victim was rushed to a private hospital at Mohan Nagar and was later referred to another private hospital at Vaishali where he underwent a CT scan and a surgery.
"He is presently stable and in the intensive care unit (ICU). His family members have denied any knowledge about the assailants and are unwilling to name any suspects. We suspect that the incident is related to a post-election rivalry," Pal said.
The victim had won the gram pradhan election from Tila Shahbazpur with a huge margin. Five of the total eight candidates had lost their deposits in the election.
"Just two days ago our officials had inquired about any issues after the elections, but Singh denied having any problems," Pal added.
Police sources said that they were investigating the role of a former pradhan who surrendered before a court two days ago in connection with a criminal case. Officials added that several teams were formed and are on the lookout for the assailants.
Close