Like Greater Noida's Shahberi, many Noida villages are hub of unauthorized buildings
Updated on Jul 19, 2018 01:12 PM IST
Experts said a majority of officials in the land department and the police have been supporting builders who are engaged in constructing illegal buildings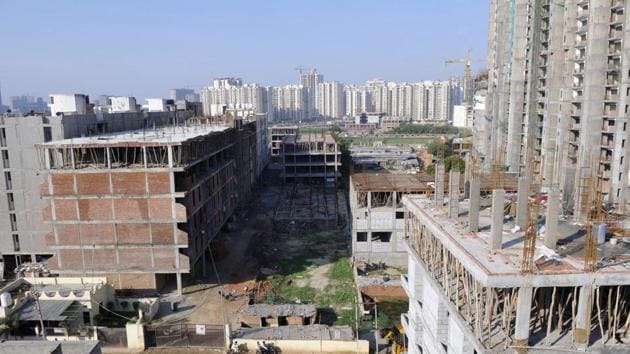 It is not only Greater Noida's Shahberi, the site of Tuesday's building collapse that has killed nine so far, where illegal buildings are aplenty. Experts and officials said that as many as 50 Noida villages have become a hub of unauthorised residential and commercial towers in the last two decades.
Noida authority has been unable to contain the construction of unauthorised buildings.
Experts say a majority of officials in the land department and the police have been supporting builders who are engaged in constructing illegal buildings in order to make quick money.
"The officials of the land department are hand in glove with builders who are engaged in construction of illegal buildings in the village areas in Noida. As a result, hundreds of illegal buildings with unsafe structures and foundations have come up in villages, where a mishap can happen any time," said Atul Gupta, president, Noida Architects Association.
"These buildings are in violation of building by-laws and do not even have proper ventilation, forget the safety part. This must be stopped immediately in Noida if we have to save this city," Gupta said.
There are 82 villages in Noida of which around 50 have rampant illegal construction, local officials said.
Buyers end up being easily lured by these unauthorised houses because these flats are cheaper compared to flats built by the bigger realty firms, which seek proper permission.
"I cannot afford to spend Rs 50 lakh on a flat offered by a major housing project that has been approved by the authority. A flat offered on village land comes for around Rs 20-25 lakh, which is more within the budget of people like me," said Ashutosh Singh, a buyer.
To contain illegal construction in the villages, the Uttar Pradesh government issued an order on October 20, 2014, directing industrial authorities to approve maps of houses on village land. But the officials have largely been unable to implement the directive.
A day after the Shahberi incident, Noida authority directed two general managers to conduct a detailed inspection across the city and identify illegal buildings.
"We have decided to identify all buildings, which are unapproved. We will take strict action against the unauthorised buildings. We have sealed illegal buildings in some villages. Similarly, we will identify and seal other buildings too," said Alok Tandon, chief executive officer (CEO) of the Noida authority.
Tandon added that many homebuyers need to be more cautious about buying flats in unapproved projects, especially smaller projects developed on the land located in villages.
"We have issued notices appealing to public that they should not invest or buy flats in projects not approved by the authority. We will once again issue notice appealing to public that do not buy flats in the buildings, which are illegal," said Tandon.
Tandon added that if a villager wants to construct house for his own use on a plot located in village, the authority must approve the map.
In 2015, Gautam Budh Nagar district magistrate conducted a survey and found that around 70 buildings over 15m in villages were unsafe and were in need of strengthening. However, nothing has happened since then.
Illegal buildings thrive in Noida's villages such as Garhi Chokhandi, Basai, Sorkha, Atta, Sadarpur, Sarffabad, Gijhod, Barola and Bhangel among others, local officials, who did not wish to be named, said.
"The authority will not spare any building that is come up flouting norms," said Tandon.
The 2015 survey had found that several buildings that had 8 or 11 floors were built without lifts, setback areas and in violation of building bylaws thereby being hazardous.
Personalise your news feed. Follow trending topics