Nigerian brothers recount Greater Noida horror, video of attacks emerges
Updated on Mar 30, 2017 11:04 PM IST
A video put out by the Association of African Students in India shows a mob ganging up on a man – identified as Endurance– and kick and punch him repeatedly inside Greater Noida's Anzal Plaza mall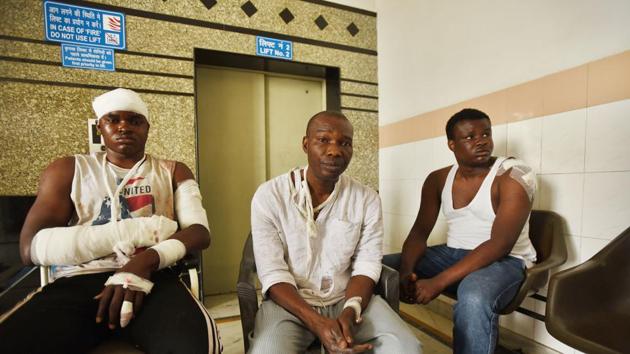 Two Nigerian siblings thrashed by a mob inside a Greater Noida mall on Monday evening have suffered facial injuries and minor fractures but have been ruled out of danger by doctors.
Endurance Amarawa (21) and Precious Amalcima (24) attacked by scores of people who were enraged by the death of 17-year-old student Manish Khari who died of a suspected drug overdose.
Residents say that Khari procured drugs from the Africans residing in Greater Noida.
"On Monday evening, we were shopping in Ansal Plaza when suddenly a mob attacked us viciously. When we tried to enter a showroom to save ourselves, the staff refused to let us inside," said Precious.
"They kept beating us viciously, hurling abuses at us, " said Endurance.
Endurance is a first year BA-LLB student at Noida International University (NIU). His brother Precious has been pursuing political science from NIU for the past two years.
A video put out by the Association of African Students in India shows a mob ganging up on a man – identified as Endurance– and kick and punch him repeatedly inside Greater Noida's Anzal Plaza mall.
The video – which couldn't be independently verified by HT – shows a man trying to fend off a torrent of blows from the mob, which repeatedly hits him with sticks, stools and trash cans. The video doesn't show anyone trying to stop the attackers from beating up the man, who tries to escape unsuccessfully.
Personalise your news feed. Follow trending topics