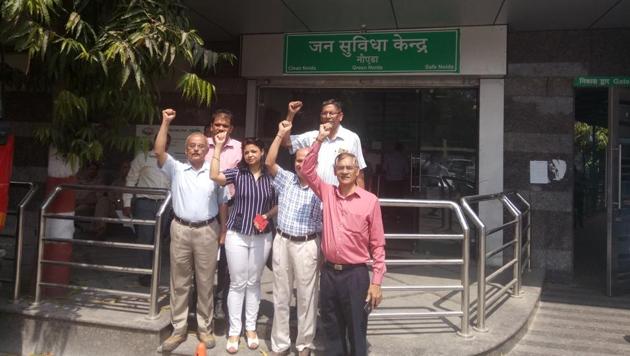 Noida: Builders fail to pay bill, residents stare at drinking water crisis
Residents wonder why they should suffer despite having paid their bills to the developers, who are at fault.
PUBLISHED ON APR 02, 2018 11:03 PM IST
Residents of six housing complexes in sectors 74, 76, 77 and 78 are staring at a drinking water crisis as the developers of their buildings have failed to pay water bills to the Noida authority.
A delegation of residents from six housing complexes — Aditya Urban Casa in Sector 78, JM Orchid in Sector 76, Aditya Celebrity Homes in Sector 76, Sunshine Helios in Sector 78, Sethi Max Royal in Sector 76 and Ajnara Homes in Sector 74 — on Monday met the Noida authority's chief executive officer (CEO) Alok Tandon and other officials, seeking their intervention in the issue.
The authority officials said they will recover dues from the builders.
The authority had warned defaulters that if water bills are not paid at the earliest, it would disconnect water supply of the defaulters. The authority on March 15 cut water connections of 28 consumers who failed to clear dues of ₹3 crore. The authority has started taking strict action against defaulters, because it is yet to recover dues of ₹28 crore, with respect to water bills, from thousands of consumers.
Residents questioned why they should suffer despite having paid their bills to the developers, who are at fault.
"We pay maintenance to the developer every month. The maintenance fee includes water bills, security services and other facilities that the builder provides. We are troubled since we came to know that the authority will cut water supply. Authority officials have refused help in this issue. Now, we do not know what to do because the developer is also not paying attention to us," RG Badhadhe, a resident of Sethi Max Royal apartment complex in Sector 76, said.
Residents of the six societies shifted into these complexes around three years ago. The builder is responsible for taking care of all civic services, such as water supply, security and cleanliness, among others, until it hands over maintenance to the apartment owners' association.
"In last three years, the authority has sent a bill of ₹42 lakh first time, since residents moved into the complex. The authority has imposed interest and is charging ₹42 lakh, which is too high. We will recover the dues from residents and then pay it. It will take time to recover dues from residents. We have written to the authority to discuss this issue. We hope it will be resolved soon," Mayank Sethi, director of Sethi Max Royal Group, said.
Builders of other buildings were not available for comment.
Developers need to collect water bills from residents and pay the same to the authority until the apartment owners' association takes over the maintenance of a housing complex.
"When we have been paying our bills regularly, why would the authority cut water supply to our flats?" P Chandra, a resident of Aditya Urban Casa in Sector 76, said.
The authority said that residents should discuss the water bill issue with their respective builder.
"We are providing municipal services to our consumers and so, we also have a duty to recover our dues. When we spend money on providing water supply, we will have to be tough to recover our dues as well. We have cut connections of 28 consumers so far and will continue to do so if the dues remain unpaid," SC Arora, senior project engineer of the Noida authority, said.
Amit Modi, vice-president of the Confederation of Real Estate Developers Association of India (CREDAI), said that this issue should be discussed with the authority and resolved.
"We need to discuss this issue in detail with the authority and residents to sort it out. But it is very simple — if a resident is using water supply, then he/she has to pay a fee for the same. We will discuss the issue in our meeting this month," Modi said.
Close