Noida: MLA ensures I-Day celebrations in Jewar madrassas
Clerics of madrasas were happy for the limelight and said that at least people will pay attention to the development and modernisation of these institutions now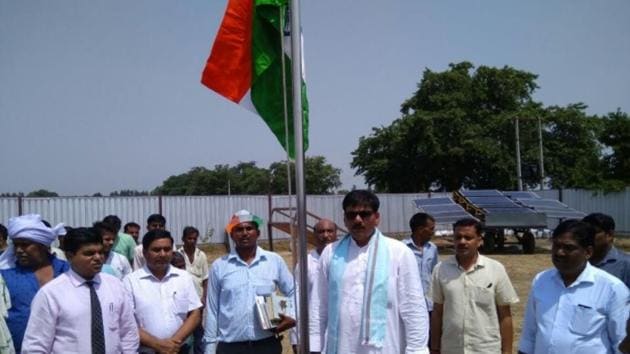 Published on Aug 15, 2017 10:47 PM IST
Hindustan Times |
, Greater Noida
Preety Acharya
Bhartiya Janata Party MLA Dhirendra Singh of the Jewar constituency on Tuesday made sure that the madrasas in his constituency celebrated Independence Day and hoisted the National Flag, on the instructions of chief minister Yogi Adityanath.
"I celebrated Independence Day at the Qasim-Ul-Ulum madrasa. Our volunteers made sure that other madrasas also celebrate this important day with all the respect. People in my constituency showed a lot of interest in the celebration," said Dhirendra Singh.
Clerics of madrasas were happy for the limelight and said that at least people will pay attention to the development and modernisation of these institutions now. "We have always been celebrating Independence Day. The son of our sitting MLA attended the programme and promised that more attention will be given for the betterment of students studying here," Mohammed Waris Bin Shabbir, who teaches at Islamia Arbia Ifzul Islam, Jewar, said.
"We never had any issues in celebrating Independence Day. The only problem we came across was that few people were not comfortable singing Vande Mataram. This is our country and we have taken part in the freedom struggle and no Muslim has any objection to the celebrations until it interferes with our religious teachings," said Mozzam Khan, who works in close association with the MLA.
"Tomorrow, if the Communist Party comes into power, they will ask us to say 'Lal Salaam'. So, this doesn't mean that every party will come and force us into singing or saying things that they believe in," added Khan.
Singh also posted a video of him celebrating Independence Day in a madrasa on social media, as directed by the CM. The decision to record Independence Day celebrations for the first time had stirred up a mixed response from Muslim clerics.
The UP government had directed all madrasas to organise celebrations on Independence Day and record videos of the event.
The circular had directed that, on Independence Day, flag hoisting and recitation of the National Anthem should take place at 8am. It also mentioned that tributes should be paid to the martyrs of the freedom struggle, students will sing national songs and also the students should be told about the history of August 15 and freedom fighters.
Close Story
Personalise your news feed. Follow trending topics