Noida: Specially abled youngsters redefine job market
Updated on May 18, 2016 05:00 PM IST
It is placement season at the Noida Deaf Society, an NGO that provides skill development to specially abled people from across the country.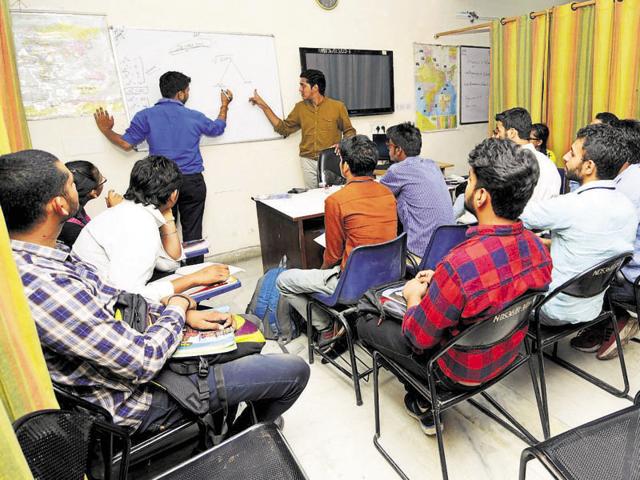 Hindustan Times |
, Noida
Abhishek Anand and Simar Bhasin
It is placement season at the Noida Deaf Society, an NGO that provides skill development to specially abled people from across the country. In a regular job environment, placement means nervous graduates in search of a job that will take them on their respective career paths. Applicants go to great lengths to make their curriculum vitae perfect and have the right answers to interviewers' questions. But for the students of NDS, the struggle to find a job is very different.
The procedure involves handing in their CVs to the placement in charge who then forwards it to corporates interested in hiring hearing and speech impaired individuals.
Ruma Roka, the founder of NDS, which has branches in various states, said they enrol youth from all over the country and help them get placed after providing them skill development classes. "The job market is becoming more inclusive. The IT and the hospitality sectors recruit the most of our students and always come back to recruit from us," Roka said.
Sajith Sathyadas, who takes care of HR operations and training at Holiday Inn, says they have been employing hearing and speech impaired youth from NGOs for the past five years. "In our experience, they are more dedicated to their work and so the productivity is high," he said.
Sathyadas said specially abled employees often leave for more lucrative jobs as there is a lot of demand for them. "Employees leave us when they get better job offers and we go back to the NGO to hire more youths. Currently, we have four hearing and speech impaired employees working in the housekeeping and the kitchen departments," he said.
This year, four students from NDS — Karan Kumar (21), Shruti Singhal (21), Vinita Khandelwal (25) and Harsh Jain (26) — are all set to be executives of a knowledge process outsourcing (KPO) at Horizon group, which is hiring specially abled youth.
Kumar, a resident of East Delhi, through his interpreter told HT that this was "like a dream come true for him".
"I am happy to be here. I would love to work as an executive. I never thought about having a job," he said.
"We thought of starting a pilot project by hiring a couple of specially abled youth. These four were shortlisted and hired. They are undergoing training and will soon be on the floor," said Parul Srivastava, HR manager, Horizon Group.
"They will be working in the morning shift — from 8am to 5 pm and will be paid the same salary and perks as others in their designation. They will be treated the same as other employees and will be eligible for a salary hike and promotion, depending on their performance," Srivastava said.
Although there are difficulties and logistic issues, these young inspiring figures are redefining the job market by making it inclusive and paving the way for others like them.
"Sometimes, speeching and hearing impaired persons have some confusion during training sessions and I sort it out. So far, they have learned everything quickly and are performing well," said Gauravdeep Singh Rana, an interpreter at NDS.
Roka said the demand for dedicated employees, regardless of their impairment, is so much that these initiatives taken by various corporates have ceased to be charitable.
"The job market is changing and the employers are understanding that speech and hearing impaired people are also able. This has ceased to be a charitable model," Roka said.