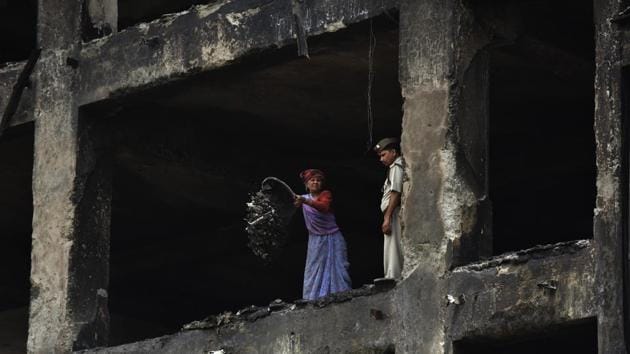 Noida to crack down on violation of land-use norms
The Noida authority has released a schedule for the first phase of its drive, from May 8 to May 12
UPDATED ON MAY 05, 2017 11:59 PM IST
The Noida authority has decided to crack down on illegal constructions and violations of land-use norms in residential, industrial, institutional and commercial areas. The authority will start a drive from May 8 against building owners who are flouting norms.
Officials said that the motive behind the drive is to curb illegal constructions and check violation of land-use norms as it becomes tough to evacuate buildings in case of emergencies, such as a fire.
Recently, on April 19, six people, including a visitor and a managing director of a factory that was operating in violation of building bylaws and land-use norms, died in a fire.
"The drive is to ensure that the buildings, be it residential or industrial, are not constructed or operational in violation of building bylaws. Our teams will conduct an inspection of all buildings in a phased manner. We will check whether the necessary fire safety systems are in place or not. Those found flouting the norms will face legal action," said Saumya Srivastava, deputy chief executive officer of the Noida authority.
The authority has also released a schedule for the first phase of its drive, from May 8 to May 12. Officials said that the authority will release a weekly schedule here on. Five teams consisting four members each will conduct the inspections and report to top officials for necessary action against violators.
To begin with, a four-member team led by engineer Ram Khiladi Sharma will carry out an inspection of industrial buildings in sectors 1, 2, 3, 4 and 5 on May 8. On May 9, a team led by engineer PK Garg will inspect buildings in Sector 62. On May 10, a team led by engineer MC Tyagi will carry out an inspection in sectors 74, 75, 76, 77 and 78. On May 11, a team led by engineer SC Mishra will conduct inspections in sectors 18, 28, 29 and 37. On May 12, a team headed by engineer Ram Khiladi Sharma will carry out inspections of buildings in sectors 11, 12, 55 and 56.
"Each team will have to submit its report in within three days. The teams are directed to check if fire safety systems in a building are in place and if the owner has carried out construction as per the sanctioned building layout map," said Srivastava.
Close