Mistaken for Afghan, Kashmiri student beaten up in Sharda University in Greater Noida
Updated on Oct 05, 2018 12:47 PM IST
Hundreds of students held a noisy protest against the Sharda University management on Thursday during which a Kashmiri student was also roughed up. The Greater Noida varsity witnessed sporadic brawls between Indian and Afghan students over the past few days.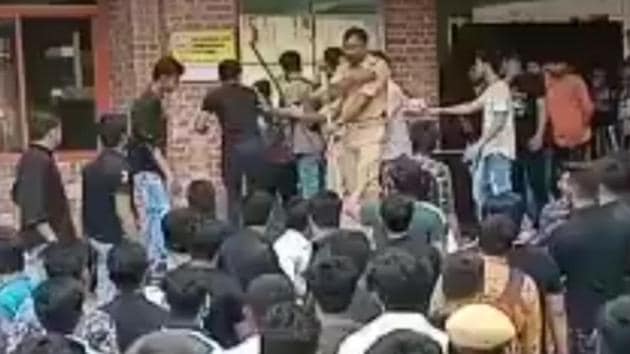 Brawls between groups of Indian and Afghan students of Sharda University in Greater Noida, which have been sporadically erupting over the last two days, resulted in fresh violence and ruckus on the campus on Thursday. The university has been shut down for three days.
Hundreds of students held a noisy protest against the university management on Thursday during which a Kashmiri student was also roughed up. A heavy contingent of police was deployed on the campus to maintain order.
The students grew agitated after the university management sent show cause notices to 10 students for getting into brawls with Afghans on Monday. Three Afghan students were also suspended over the brawls on Wednesday.
Sharda University management decided to shut the institute for next three days and postpone all exams. The Afghanistan ambassador to India, Shaida Mohammad Abdali , had been invited to the campus to talk to students from that country.
Sources said the Kashmiri student was roughed up by a group of students after he was mistaken for an Afghan national. The victim, Ahtisham Bilal, a first-year student of Bachelors in Medical Imaging Technology, was rushed to a nearby hospital for medical attention. According to eyewitnesses, he was sitting on the campus' lawn when he was attacked.
"Students were protesting against a group of Afghans and they created a ruckus on the campus. The Kashmiri student has been admitted to Sharda Hospital. A police force has been deployed at the university to avoid any untoward incident," Amit Kishore Srivastava, circle officer, Greater Noida 1, said.
The agitating students have demanded the eviction of the Afghan students. "Even after clear video evidence of the assault on us by the Afghan students, the university management has decided to send show cause notices to us rather than evicting them from the campus," a first-year BTech student said.
It all started on Monday when a brawl broke out between Indian and Afghan students over a "trivial matter". A video purportedly showed an Indian student hurling expletives at an Afghan who then roughed him up. Soon, multiple videos emerged on social media which showed the two groups engaging in a face-off. Taking cognizance of the videos, the university management suspended three Afghans and sent show cause notices to 10 Indian students.
"We intervened and made the two parties engage in talks. It was decided that a committee will probe the incident and take action. We have not registered any case in the matter," Srivastava said.
"A high level committee will investigate the matter and take action on Monday when the university reopens. We have shut the campus for three days and postponed all exams. The Kashmiri student was manhandled and was treated at Sharda Hospital," Ajit Kumar, spokesperson, Sharda University, said.
Personalise your news feed. Follow trending topics