Soon, 26 women only pink autos to hit roads in Noida
Sep 06, 2016 01:45 PM IST
The transport department in Noida has sent the applications to regional transport office, Ghaziabad for granting route permits to all first slot applicants.
A year or more after the pink autorickshaw plan was first mooted, it is set to become a reality as the transport department of Noida has received 26 applications from drivers who have expressed an interest in ferrying women passengers.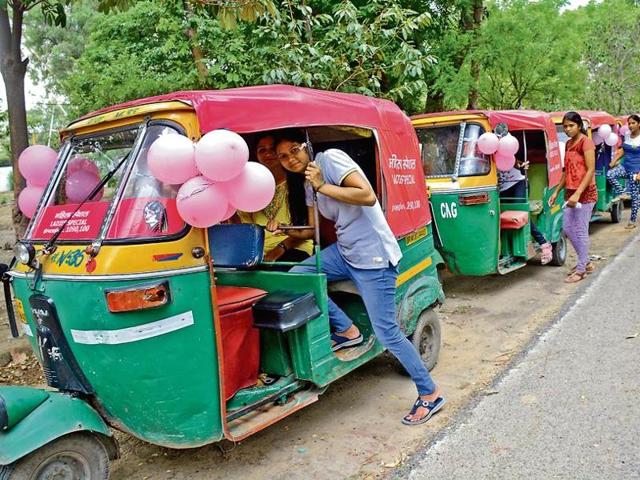 The transport department has sent the applications to regional transport office (RTO) Ghaziabad for granting route permits to all first slot applicants. The Noida transport department said it received more than 30 applications but shortlisted only 26.
"As per the provision, we have sent applications to RTO Ghaziabad for route permissions. Once we get the permissions, we will allow the drivers to run pink autos in the city," said Rachna Yaduvanshi, the assistant regional transport officer (ARTO), Noida.
More: Noida: Restrictions keep drivers away from pink auto scheme
"We have been planning for pink autos for over a year. We had finalised the route and sent the proposal to the RTO many months ago," the ARTO said.
On June 25, 2015, the regional transport authority (RTA) gave a go ahead for plying of women-only pink autos in the district.
The pink auto scheme was envisaged by UP transport department in 2014 and was meant exclusively for women commuters or women travelling with family members.
"Auto drivers were scared earlier since they though that they could ferry women only. But later, transport officials made things clear. Male members with women passengers can also travel in a pink auto," said Om Prakash Gurjar, president of CNG Auto Union, Noida.
The residents have been eagerly awaiting pink autos.
"We appreciate the transport officials' efforts as they have finally initiated the plan. Slowly, more auto drivers would come out with pink autos to provide safe and secure travelling to women," said Anju Pachauri, member of the Federation of Noida residents' welfare association.
For the pink auto project, the transport and city traffic police have identified 20 routes -- 16 routes in Noida and four in Greater Noida.
"I have received applications and will issue route permits soon. We have been trying for auto drivers come forward and apply for women-specific pink auto permits. It was the demand of the town," said Mayank Jyoti, RTO Ghaziabad, adding that 250 pink auto permits in total will be allowed for Noida.
Read: Transport dept to pitch for dedicated pink auto stands in Ghaziabad