UP civic body polls: Six municipalities of GB Nagar record 61.64% turnout
It was the second phase of civic polls in Uttar Pradesh and a total of 25 districts, including Lucknow, went to polls on Sunday.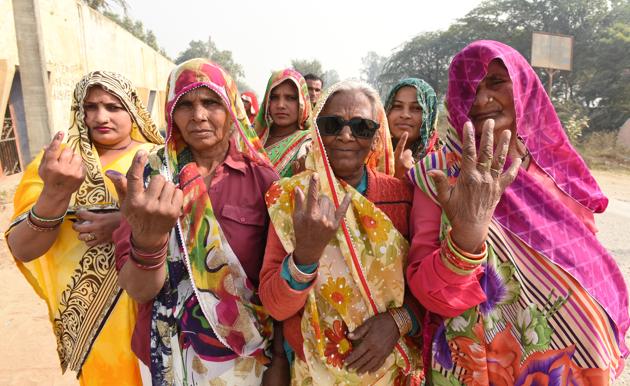 Updated on Nov 27, 2017 01:30 PM IST
Polling for the local body elections in Gautam Budh Nagar ended on Sunday evening with the district recording an average polling of 61.64%. A total of 88,919 votes were cast across the district at 182 polling booths.
It was the second phase of civic polls in Uttar Pradesh and a total of 25 districts, including Lucknow, went to polls on Sunday.
In Gautam Budh Nagar, ballot boxes were used for voting instead of electronic voting machines (EVMs). Counting of votes will be done on December 1.
Of a total 1,44,236 registered voters across the district, 88,919 exercised their franchise in the six municipalities of Dadri, Jewar, Rabupura, Dankaur, Bilaspur and Jahagirpur.
Of the six constituencies, Jahagirpur recorded the highest polling — 74.16% — while Rabupura recorded the lowest — 55.95%.
"By 6pm, the polling in Dadri was 57.71% with 46,339 votes cast, 65.31% in Jewar with 16,013 votes, 74.16% votes in Jahagirpur with 6,294 votes, 55.95% in Rabupura with 7,115 votes, 72.23% in Dankaur with 7,704 votes and 72.16% in Bilaspur with 5,454 votes polled," said a representative of the district administration.
Polling began at a snail's pace early Sunday with polling remaining below 15% across the district.
At 9am, the polling was 8% in Jewar, 11% in Rabupura, 9.3% in Jahagirpur, 12% in Bilaspur and 9.5% in Dankaur. For the four zones of Dadri, the polling was 11.5%, 10%, 11.4% and 9.4% by 9am.
"It was a quiet session in the morning with no incident of violence or discrepancies being reported. We maintained high security across the district and ensured that the elections are free and fair," said Vivek Gautam, zonal magistrate for Jewar in GB Nagar.
In Jewar, there was some ruckus outside some poll booths as polling agents and political party representatives clamoured to assist people with their Aadhaar cards and ensure that their names are present in the voters' list.
"I am 84 years old and I have come early morning to cast my vote, which is my constitutional right. I have been voting in all elections, be it the state assembly, Lok Sabha or the civic body," said Suresh Chand Tayal, a resident of Jewar.
Polling took up pace in the afternoon as more and more people started turning up at the booths.
"Polling escalated in Rabupura after 10am and, by 12pm, the polling was at 27%. No untoward incident was reported in our zone," said PK Upadhyay, zonal magistrate, Rabupura, GB Nagar.
Polling ended at 5pm in all the 182 booths of the six municipal constituencies. Now, the fate of 60 candidates fighting for the post of chairperson in the six bodies will be known on December, the counting day.
Close Story
Personalise your news feed. Follow trending topics