Akbar left Fatehpur Sikri because of water shortage, where will Gurugram residents go?
Jun 29, 2018 02:35 PM IST
Speedy urbanisation in the last two decades has increased the demand for water, which is exceeding the sustainable supply, and Gurugram now stands at a very critical juncture
A recent Niti Aayog report projects that Delhi and other cities could run out of groundwater by 2020.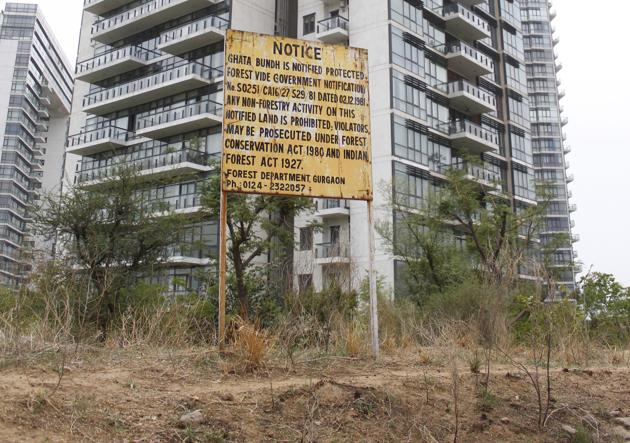 Gurugram receives less than 600mm of rainfall annually, which puts the city firmly in the semi-arid zone. Rainfall is concentrated in the monsoon months and, historically, Gurugram has survived on groundwater and stored water for most part of the year.
Gurugram benefits from its location in the foothills of the Aravalli, which has a lot of cracks, fractures and fissures, making them a high recharge zone.
Public water supply is increasingly being met from Yamuna canal water. However, the future water allocation for Gurugram will depend on the extent of flows remaining in the river and on competing demands. Hence, groundwater will always remain a key element for meeting city's requirement.
Speedy urbanisation in the last two decades has increased the demand for water, which is exceeding the sustainable supply, and Gurugram now stands at a very critical juncture. Private and public borewells indiscriminately withdraw groundwater, depleting the already low groundwater levels. According to the Central Ground Water Board, in 2006, Gurugram block withdrew about 300% more water than the sustainable groundwater recharge level (this number, no doubt, has only increased). This over extraction is leading to a decline of groundwater level by as much as 1.5 metre per year.
At the same time, the increasing concretisation of the city reduces the potential for natural recharge, which in turn increases storm water runoff. Instead of recharging groundwater, rainfall leads to floods in the city. A blessing turns into a curse.
There is, therefore, an urgent need to protect from construction areas that recharge groundwater naturally, such as ponds, nullahs, low-lying areas, bundh submergence areas and, most importantly, the Aravalli hills.
Why should we keep storm water drains unlined and open?
Once you concretise, you have lost the option of water seeping into the ground and you have no idea whether the sewage lines are flowing into it. The tendency to throw garbage into open nullahs, makes keeping them clean a challenge, but that cannot be a justification to concretise and cover large storm water drains.
Concretising large nullahs drastically reduces their cross section area and their storm water retention and discharge capacity, while also reducing recharge. It also treats storm water as a problem that has to be transported out, rather than a resource for recharge.
Also, why should we dump our rainfall runoff in Najafgarh drain when it's known that water table in Gurugram is fast depleting? Instead, we need to find ways to channelise water into these storm water nullahs/drains, for storage and recharge.
Similarly, low-lying areas may be zoned as parks and open spaces, to hold rainfall and runoff in the monsoon months and act as green recreational and biodiversity spaces for the rest of the year.
Treated sewage can also be used for recharging groundwater and for areas such as the Ghata Bundh and the low-lying belt of Basai, which benefits from treated sewage and is a major habitat for migratory water birds.
Submergence area are prime examples that need to be conserved for biodiversity, groundwater recharge and recreation.
To become sustainable and ensure our long-term water security, we also need to reduce the per capita demand for fresh water. Metering bore wells can give feedback to consumers. Incentivising the shift to water efficient fixtures—low flow taps etc, can help, as can slab pricing that makes overuse expensive. Further, facilitating equitable distribution of water across all sections of society, especially renters in informal settlements, must be made a priority.
Without sustained effort, groundwater level will continue to decline, and leave the city with a serious groundwater shortage and even an absolute non-availability within our lifetimes.
Akbar left Fatehpur Sikri, near Agra, and went to Lahore because of water shortage. Where will the residents of Gurugram go?