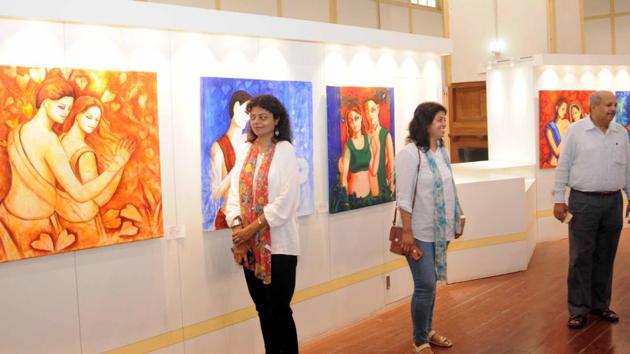 Art advisors should help their clients make independent choices
Every individual has an inherent visual and aesthetic sensibility and that needs to be honed. This can only occur with some level of engagement.
UPDATED ON JUN 30, 2018 02:03 PM IST
I believe, rather firmly that the role of an art advisor should be redundant.
Before I proceed, I would like to share that I have for the past 17 years been in the art advisory business.
What kind of a flaming idiot wishes for his own profession to be deemed superfluous? Clearly there is room for individuals and organisations to guide those wishing to navigate the densely opaque and deeply mystifying art world.
Why, even the heavily more evolved collecting ecosystems of the West have a lengthy list of advisors who represent some of the world's most powerful collections.
My position quite simply is that if one is buying a work, or building a collection for the immediate pleasure of oneself and the family, there should be no room for an advisor.
By that measure, we've rounded up perhaps 96.2% of all Indian collections that are in various stages of their lifecycle. The majority collects to enhance and beautify their living and working spaces, in addition to an extent, keep up with the neighbours.
At the farthest end of the line are the households that simply do not get involved in the selection process and delegate the task of sourcing art to a professional.
Actually, scratch that. Even further along are the homes that haven't yet placed any art in their homes.
A surprisingly high number of families believe that a particular wall finish qualifies as art, and while in some capacity this might ring true, I'd rather we aim for something more…let's say, unique.
Even if the budget is a concern, it isn't that uphill a task to take those initial baby steps towards collecting.
The simplest place is start is to have a young one in the family create something specific for a specific space - give the budding maestro at home her/his first commission. The additional points for collective family pride when (hopefully) someone asks the name the artist is a bonus.
For families that have engaged a formal interiors practice, I'd urge them to take the function of selecting art upon themselves to as far an extent as possible. The art market is indeed voluminous and having someone manage the groundwork, identifying a preliminary list of artists, for instance, is perfectly fine, but to trust someone else with making a decision is sacrilegious. The lack of confidence one might feel at the outset will wither rapidly as long as one marches forth with a consistent step, and with a degree of self-awareness. During this initial stretch, by all means should one have the professional on standby for counsel and for a series of discussions on shortlist, and before the final selection. But the journey should be yours.
Even the aspect of groundwork can be tremendous fun, as one might note in retrospect. The number of Indian galleries in each city are fairly limited and a brief telephonic conversation outlining one's personal preferences ( for instance, realistic, bright palette, large scale work) can lead to a series of emails with images of works by their artists for your consideration.
Every individual has an inherent visual and aesthetic sensibility and that needs to be honed. This can only occur with some level of engagement. For most, and as with all realms new, the first steps can be challenging, cumbersome, or plain boring.
But if you stay with the programme for long enough, somewhere along the path you will encounter an artist who will speak to your heart, and whose works will put a smile on your face. The sheer pleasure of this discovery is well-worth the journey itself.
Waking up to that work, and having it around will subliminally effect your being for the better and likely make your days brighter. In having identified even a single work that one loves, one discovers a sense of self, unravelling an inner sanctum that one would perhaps not even realise exists.
With such vigorous advice to veer away from art advisors, how do I stay in business, you ask? Over the years, my firm's role has sharpened into a clarified niche that very lightly skims upon the role of the conventional art advisor, focusing more on market intelligence, and diligence. It's a fascinating work profile, one that I might merit an article to itself.
There is a certain common ground between an art advisor and one's stockbroker or dentist: the client comes to trust your experience, voice, and instinct but that's where the commonality ceases. Unlike a dentist, an art advisor should constantly coax the client to make decisions independently, furnishing them with all the information and direction they require till the point when the client doesn't need to call the advisor for an opinion.
But does anyway.
(Arvind Vijaymohan is the CEO of Artery India, a financial datacenter focused on Indian art sales globally.)
Topics
Close