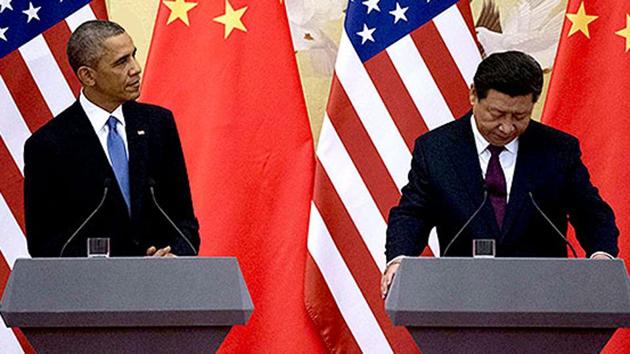 China's free ride under US President Obama is ending
A revamped US strategy could help add concrete strategic content to a partnership with New Delhi whose main feat has been to turn India into the biggest foreign buyer of American weapons, even as Washington boasts a "constructive strategic partnership" with China since 1997 and a "strategic partnership" with Pakistan since 2006.
By Brahma Chellaney
UPDATED ON DEC 28, 2016 10:22 PM IST
How salient India is in Donald Trump's foreign policy will very much depend on the larger geopolitical framework governing US strategy during his presidency. It is possible that Trump's geostrategic approach could, in practice, make the US-India relationship what outgoing President Barack Obama rhetorically called a "defining partnership of the 21st century".
Trump ran an election campaign that challenged American diplomacy's longstanding shibboleths and premises, turning even the traditional Republican foreign-policy establishment against him. Indeed, many of the foreign-policy experts associated with his party signed 'Never Trump' letters and indicated that they preferred Hillary Clinton to him.
Read: China flexes military muscle before US President-elect Donald Trump takes office
Since his election triumph, despite seeking to make peace with the party establishment, Trump has signalled that his foreign-policy approach is likely to be unconventional. Even before assuming office, Trump has made statements that seemingly break with current US foreign policy, including wanting to "greatly strengthen and expand" US nuclear capability.
At least four guiding themes are already apparent in Trump's foreign-policy approach: Economic nationalism that views trade liberalisation as the handmaiden of an internationalist foreign policy contributing to America's relative decline; comprehensive domestic renewal, including by reversing an interventionist, regime-change policy that dates back to Iranian Prime Minister Mohammed Mossadegh's CIA-engineered 1953 overthrow; a determination to boost US economic growth by eliminating critical roadblocks, including unfair competition from Chinese manufacturers; and waging a war against radical Islamic militancy before it metastasizes into a global jihadist movement.
Read: India should cautiously welcome Trump's views on 'One China' policy
The US' foreign policy has long been tethered to two mucky posts — an alliance with Arab monarchs that has endured even as these cloistered royals bankroll Islamic militant groups and madrasas in other countries; and a fixation on Moscow despite the Soviet Union's collapse, as if Russia remains the principal geopolitical foe whose strategic space must be crimped.
Trump has signalled a need to recalibrate US foreign policy by shifting its geopolitical focus from Russia, a declining power whose economy is expected to contract by 0.8% in 2016, to the increasingly muscular and openly revisionist China. Unlike Russia's 2014 annexation of Crimea in one stroke, China's territorial revisionism, as illustrated in the South China Sea and the Himalayas, is creeping and incremental yet relentless.
Read: Beijing faces decision on how to respond to Trump's fresh tweets slamming China
Trump cannot credibly revive George W Bush's global war on terrorism without disciplining Saudi Arabia, Qatar and the other sheikhdoms that continue to blithely export Islamic radicalism. At a minimum, he is likely to halt immigration from problematic countries extending from Pakistan to Libya.
Trump's economic nationalism holds major implications for China and Mexico but marginal for India. Indeed, his geopolitical focus on China and Islamic radicalism meshes well with Indian strategic priorities. The Obama era, despite the bilateral bonhomie, compounded India's security challenges, with its obsequiousness with China extending to bolstering Beijing's Pakistan strategy through parallel financial and political support to that renegade country.
Read: China says it wants smooth military ties with US administration of Trump
More broadly, a wake-up call for America's allies and partners in Asia was Obama's stunning silence on the 2012 Chinese capture of the Scarborough Shoal, located within the Philippines' exclusive economic zone. Washington did nothing in response to the capture, despite its mutual-defence treaty with the Philippines. That inaction helped spur China's frenzied creation of artificial islands in the South China Sea. In late 2013, when China unilaterally declared an air defence identification zone covering territories it claims but does not control in the East China Sea, Obama again hesitated, effectively condoning the action. And recently, his meek response to China's daring seizure of an underwater US drone sowed more doubts about America's will to defend its allies.
On Obama's watch, China, in less than three years, built seven islands in the South China Sea and militarised them by deploying heavy weapon systems in an attempt to annex a strategically crucial corridor through which half of the world's annual merchant fleet tonnage passes. Indeed, China has demonstrated that defiant unilateralism is cost-free.
But now China's free ride is ending, with Trump willing to call a spade a spade and adopt a tougher and less predictable line toward it. This is apparent from Trump's suggestion, after taking a phone call from Taiwan's president, that a "one-China" policy is no holy cow for him.
By subsidising exports and impeding imports, China has long waged an economic war against the other major economies. While India has done nothing in response, even as its annual trade deficit with China doubles to $60 billion on Narendra Modi's watch, Trump is threatening to slap high punitive tariffs on China for what he described during the campaign as "the greatest theft in the history of the world".
To be sure, Trump is likely to face resistance to recalibrating US policy from the old establishment figures in Washington who spent their formative years during the Cold War obsessing with the Soviet threat and who now see Russian President Vladimir Putin as the epitome of evil. Trump's task is made more onerous by a mainstream media that remains hostile to him despite its epic failure to anticipate or predict the election outcome, largely due to its concerted bet on a wholly different result. Still, a determined Trump is likely to reorient US policy in potentially momentous ways.
For example, with his focus on China, Trump could pivot to Asia in a way Obama did not. A revamped US strategy could help add concrete strategic content to a partnership with New Delhi whose main feat has been to turn India into the biggest foreign buyer of American weapons, even as Washington boasts a "constructive strategic partnership" with China since 1997 and a "strategic partnership" with Pakistan since 2006.
Brahma Chellaney is a geostrategist and author.
The views are personal.
Close