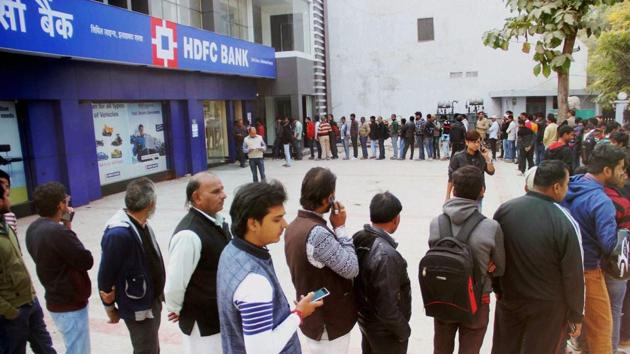 Howzzat! If demonetisation is cricket, the govt appears stumped
A plan that was questioned from the start now finds itself, head down, arms akimbo, waiting desperately for the innings to end
UPDATED ON DEC 28, 2016 07:11 PM IST
Cricket has a strange way of offering analogies and comparisons to events that are entirely unrelated. So why should it not have some lessons for our new experiments with demonetisation?
The last 50 days have been like few others in the history of modern India. Not only because a nation of one-point-something billion has been forced to make standing in queues, signing cheques, applying for credit cards and downloading mobile wallets its primary preoccupation, but also because rarely has the Union government been more aggressive in dealing with the 'glorious uncertainties' of a policy decision.
Since November 13, the day the initial 4000-rupee withdrawal cap was raised to Rs 4500, more than three-score changes have been effected to kind of access citizens have to their own money. At last count (and this number has been generously provided by former finance minister P Chidambaram), 62 rule modifications had been made by the government and the Reserve Bank of India. From changing withdrawal caps to deposit deadlines, from earmarking special bank days for senior citizens to relaxing rules for wedding parties, there has been chopping and changing of every manner conceivable.
Read: Whoever implemented demonetisation, didn't know elementary economics: Chidambaram
Several critics have suggested this shows the government's lack of planning, its poor implementation, its inability to foresee the problems that were bound to come with declaring 85 per cent of the currency in circulation illegal tender, but Prime Minister Narendra Modi responded on Christmas Day by saying that the frequent alterations simply proved the government was being "responsive".
Let us, in order to honour the preamble of this piece, examine this contention through a cricketing prism. There are several occasions on a pitch when the bowling side finds itself irrevocably under the cosh, when the flow of runs is suddenly amplified from a trickle to a torrent, when the entire match could spiral out of control in a matter of a few overs. In such a circumstance, a captain can primarily react in one of two ways.
The first option is to start juggling fielders around based on where the last boundary was hit. If it was a drive through the covers, a fielder is dispatched there to plug the gap. If the next ball is flicked through fine-leg, another fielder is instantly deployed at that position. And then, if the next ball is driven through long-off, the fielder who was first sent to the covers is asked to move deeper and straighter to the off-side fence. Cricket history suggests that while these band-aid solutions may suggest a heightened sense of activity and 'responsiveness', they can't exactly be classified as either proactive or effective.
The second option is for the captain to change tactics entirely. To give his bowlers a new line to target and to give them a field that factors in any shots that his new strategy might instigate. For example, to attack the off-side corridor, with fielders in the slip cordon, point, gully, cover and long-off, and to not waver in spite of the occasional pull through square-leg. Though the success of such a plan is not guaranteed, it's been found that the fielding side stands a much better chance when its decisions are less reactive and more calculated.
Caught between these two options, the Indian government seems to have continued to choose unwisely. It has augmented the mistakes made at the outset – at the toss, if you will -- by employing the strategy of plugging a hole when it appears, and then unplugging it to plug another hole somewhere else.
Read: Farmers hit as vegetable prices crash down after demonetisation
A demonetisation plan that was questioned from the start – in terms of execution, impact and constitutional validity, even if not in terms of intention – now finds itself, head down, arms akimbo, waiting desperately for the innings to end.
Close