Digitisation of India's economy is the success story of demonetisation
Research demonstrates that there was a structural break after November 8, 2016, with a permanent increase in digital payments and decrease in the relative importance of cash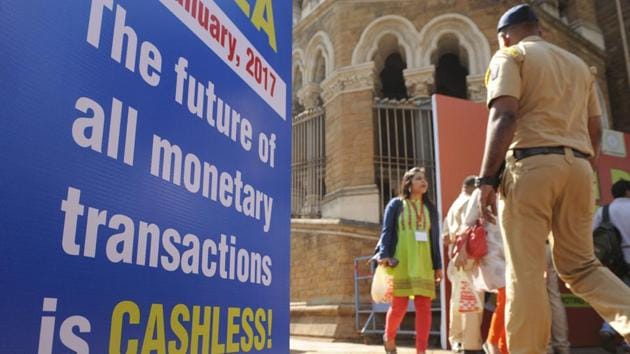 Updated on Nov 12, 2017 09:15 AM IST
On the first year anniversary of demonetisation, it's important to ask if it accomplished its stated objectives. While it appears that the objectives of rooting out black money as announced by Prime Minister Narendra Modi on November 8, 2016, has not been realised, given that almost all of the Rs 15 lakh-crore of high value notes in circulation were returned, is there credible evidence that another goal, which was articulated in the weeks following the announcement, has been achieved?
Has the goal of digitisation and moving away from cash achieved?
Unfortunately, much of the analysis has been simplistic and misleadingly compares two data points before and after demonetisation. For the past year, I've been developing and updating a statistical model calibrated to Reserve Bank of India data, which tracks the evolution of digital payments with data going back to 2011 and right up to the latest available, August 2017.
As articulated in a pair of research reports for Observer Research Foundation, a Delhi based think-tank, the model clearly shows that several key components of digital payments such as Point of Sale Debit and Credit (PoS) purchases, National Electronic Fund Transfer (NEFT), Immediate Payment Systems (IMPS) and mobile banking, are way above their pre-demonetisation trends. The model itself is based on positing a relationship between various digital payment modes and the total supply of money in the system, a standard approach in monetary economics. Clearly demonetisation disrupted the equilibrium the economy was settling into and pushed it away from cash toward digitisation.
A simple eyeballing of the data tells a similar tale. A plot of currency in circulation as a ratio of broad money stock (M3; this includes more than physical money, currency and coins – bank deposits, mutual fund holdings, securities) clearly shows a big drop in the immediate aftermath of demonetisation and the slow increase thereafter, exactly as you would expect given that the liquidity crunch caused by the shortage of high-value notes slowly disappeared as the new notes came into wider circulation. But crucially, cash over M3 is settling into a new lower equilibrium than before: From 14% to 12%. That means one thing: less cash.
Likewise, the data show a similar permanent increase in key components of digitisation.
For instance, the PoS which had stabilised around 3% of broad money stock has now jumped up to 6%, while NEFT is above 10% and IMPS is above 0.5%, starting from a base of zero a few years ago. The model does not track Unified Payments Interface (UPI) both as it's very new and therefore its behaviour is dominated by a natural upward trend starting from zero making it hard to disentangle the effects of demonetisation.
Mobile banking reached an impressive high point of a little above 1% of broad money stock in May before falling back slightly the next month to just under 1%. Note that data starting July, which shows a big drop in mobile banking, is misleading and not comparable as the RBI explains it does not include corporate transactions.
This raises the question: Is the jump in mobile banking largely driven by the corporate rather than the personal side?
If so, this underlines the imperative for the government to continue its drive to nudge individuals towards digital and away from cash transactions. Apart from habit, technological limitations and poor mobile connectivity are a natural deterrent to switching from cash to mobile. For example, a single failed transaction which ties up a large amount of money for a long time could well put people off mobile banking.
The bottom line of the research conclusively demonstrates that there was a structural break after November 2016 with a permanent increase in digital payments and decrease in the relative importance of cash. Whatever you may think of the original goals and whether they succeeded, it's clear digitisation is one demonstrable success story of demonetisation.
Rupa Subramanya is an economist and author based in Mumbai
The views expressed are personal
Close Story
Personalise your news feed. Follow trending topics