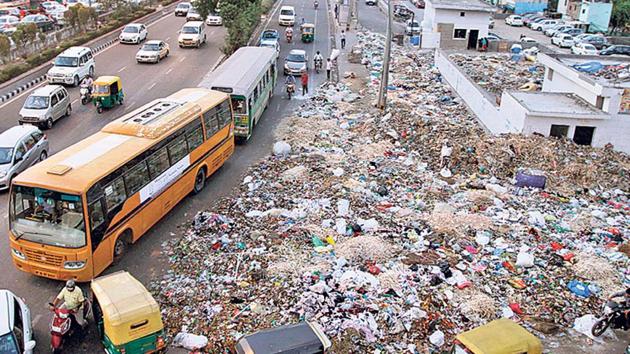 For Swachh India, focus on solid waste management
Effective solid waste management will lead to a reduction in insanitary spaces. This in turn will create a behavioural change essential to ensure toilet usage
By Sama Khan
PUBLISHED ON OCT 04, 2017 10:17 AM IST
The Swachh Bharat Mission (Urban) was launched in 2014 with the goal to clean India. If the mounting garbage on street corners wasn't enough to grant legitimacy to the need for this mission, the fact that 7.90 million households do not have access to toilets and defecate in the open was enough to convince the NDA to address this problem. The mission was launched with the objective to construct household, community and public toilets to eliminate open defecation and implement proper solid waste management along with generating information, education, public awareness and capacity building.
At the beginning of the mission, various cleanliness drives were organised in government offices and public places. Images of political leaders sweeping the streets broom in hand were common across media platforms. The idea to promote cleanliness that should start with one's surroundings became the overarching goal of the mission. However the notion of a 'Clean India' was soon transformed to an 'open defecation-free India'.
Swachh Bharat advertisements now talk about the need for a toilet in every household thereby linking toilets inextricably to the idea of a clean India. The advertisements are directed towards behavioural change and may indeed aid in promoting toilet usage but the understanding that toilet construction guarantees usage is extremely presumptuous. Most importantly, the absence of proper solid waste management from this rhetoric is hugely problematic.
A close look at the financial progress of the mission also points to a shift in focus on the construction of toilets over waste management. In 2014, Rs 7,424 crore was allocated towards solid waste management (SWM), while for the construction of household and community toilets Rs 4,860 crore was allocated. But from 2014 to 2017, only Rs 1,465 crore has been sanctioned for SWM, whereas Rs 2,190 crore was sanctioned for the construction of household and community toilets.
If one looks at the progress of the mission, its website flaunts details on the number of household, community and public toilets sanctioned, commenced and constructed — state, city as well as ward wise. However this level of detail is not extended to SWM that accounts for only state-level information on waste collection and processing. As of June 2016, only 53% of wards are covered with door-to-door collection of waste and on an average only 22% of waste is processed in urban centres — which means 78% of solid waste remains untreated and contaminates land or makes its way into rivers and lakes.
These figures are not as appealing as the 2.89 million household toilets, 13,349 community toilets and 12,582 public toilets constructed — all attractively positioned on the mission website. Toilet construction as a physical indicator of the progress of the mission is far more plausible than garbage collection and waste processing. The imagery of a constructed toilet has thus become synonymous with the mission and does not even lead you to question the largesse of the waste problem.
What gets overshadowed is the fact that urban India generates 151,831 metric tonnes of waste per day. If not collected, treated and disposed safely, this can cause serious environmental and health hazards. Inadequate collection and disposal of waste encourages open dumping on street corners, public spaces, vacant plots and even drains. These spaces in turn become breeding grounds for disease and also contribute generously to air pollution by generating volatile compounds. People who live close to these sites not only live in an unsafe and unhygienic environment but often end up working as rag pickers, thrusting them further down in the sanitation hierarchy.
Many of these dumping sites are the only open spaces available in a neighbourhood and as they get characterised by dirt and stench they end up being used for urination and open defecation.
Since behavioural change is essential to ensure toilet usage, it is important to understand that insanitary spaces will only encourage poor sanitation habits. There is far less shame and social taboo attached to defecating in a garbage dumping site than anywhere else in the open. The widespread existence of these spaces adds an element of acceptance and convenience towards open defecation. In the event of the proper collection and disposal of waste, these spaces would have ceased to exist.
Open defecation and waste management are as inextricably linked as our behaviour is to the surroundings we live in. Changing people's way of life and approach to sanitation that has been deeply entrenched by the lack of services in their surroundings cannot be dependent on the mere construction of a toilet. The least the Swachh Bharat Mission can do is to clean our surroundings before expecting cleaner sanitation choices from people.
Sama Khan is research associate at Centre for Policy Research, New Delhi
The views expressed are personal
Close