Germany is a powerhouse India leans on
Hindustan Times |
Gulshan Sachdeva
Oct 02, 2015 01:24 AM IST
German Chancellor Angela Merkel's visit to India from October 4 has the potential to further strengthen India-Germany ties and rejuvenate broader India-EU relations.
German Chancellor Angela Merkel's visit to India from October 4 has the potential to further strengthen India-Germany ties and rejuvenate broader India-EU relations. Germany's position as Europe's largest economy has allowed Merkel to assume a leading role within the EU during the crises dealing with debt and refugees. There is a clear recognition in Germany that it must take on larger responsibilities within Europe and in the world.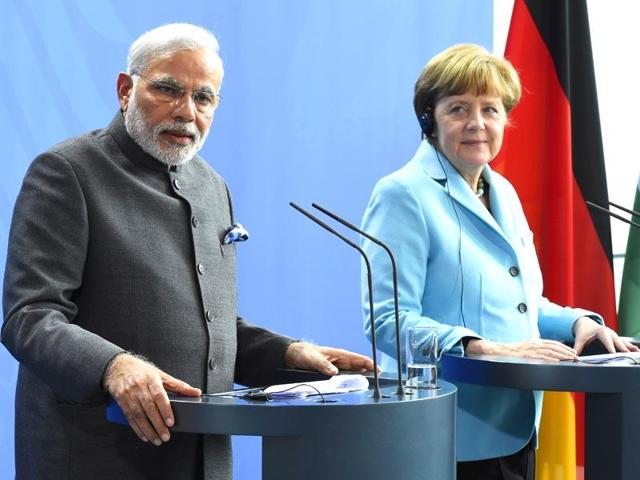 Germany had relied mainly on its economic power for influence owing to its difficult past. A close Franco-German alliance within Europe and a strong transatlantic security and economic partnership are the cornerstone of Berlin's foreign policy. Still, in a changing global order, Germany is looking for new engagements. During the last decade, it tried to focus on the Brics. Its relations with Russia are now tense owing to the Ukrainian crisis. Although China has been an attraction, Germany has started looking at India seriously, particularly under the Narendra Modi government.
With more than $20 billion of bilateral trade and as the seventh-largest investor in India, Germany is keen on concluding the stalled India-EU FTA negotiations. If followed through carefully, Germany can be a valuable partner for 'Make in India', railway modernisation, renewable energy, Clean Ganga and skill development. As strategic partners since 2000, both countries have worked closely in matters related to trade, investment, energy, development cooperation and UNSC expansion. There are about 50 working or joint working groups.
Around 1,500 German companies operate in India, with 600 in the engineering sector. If faster clearances are assured, many more are likely to join. The Indo-German Chamber of Commerce has 7,000 member companies across sectors. A recent FICCI study reveals that German companies are favourably inclined to invest in India's high tech market. Areas identified include electronic system design and manufacturing, photonics, IT, automotive, civil aviation and airports, transportation infrastructure, water, renewable energy, heavy engineering, biotechnology, pharmaceuticals, space and defence manufacturing. It's worth noting that China has already attracted about 6,000 German companies.
Moving beyond the controversy of replacing German with Sanskrit as a third language in Central Schools, both governments are keen to develop further ties in the higher education sector, especially in the fields of research, skill development and faculty mobility. Already Germany is one of the most productive collaborators in joint scientific projects for Indian researchers. IIT Madras was set up with German help. Many students in India may not know that unlike other western countries, most German universities provide free education even to foreigners. Knowing German, however, may be a key factor in securing admission.
Both India and Germany are looking for enhanced roles and new responsibilities to shape the 21st century international order. India must use Merkel's growing clout and Germany's influence in EU decision-making for improving India-EU ties, which have lost momentum in recent years. The visit could be a good opportunity to resume India-EU FTA talks. Serious engagement with Germany could also help build a consensus within the EU on India's efforts to gain entry into exclusive nuclear regimes.
Gulshan Sachdeva is chairperson, Centre for European Studies, JNU
The views expressed are personal