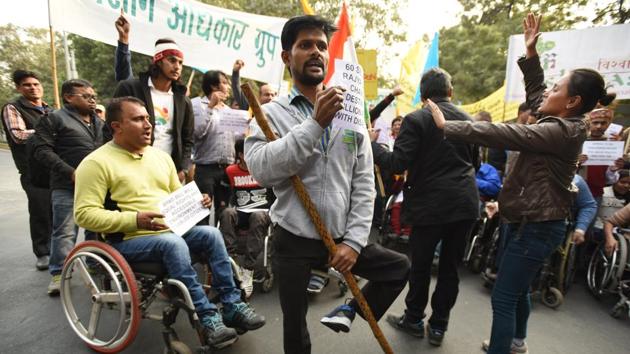 GST on wheelchairs, Braille paper is equivalent to a tax on walking or seeing
The latest government decision shows insensitivity, ignorance and a lack of understanding of the needs of Persons with Disabilities
By Nipun Malhotra
UPDATED ON JUN 27, 2017 01:47 PM IST
On September 8, 2016, President Pranab Mukherjee gave his assent to the landmark Goods and Services Tax bill, a major step towards rolling out the new indirect tax regime. The GST will come into effect from July 1. Just like everyone else, I was excited at the prospect of one indirect tax for the whole nation. But all my hopes were dashed to the ground, when the GST rates on categories of goods were released on May 18. Here's why: The GST on Braille typewriters and papers, carriages for the disabled and wheelchairs and other assistive devices have been fixed at rates varying between 5 to 18%.
I was saddened to see the government charge GST on these necessary mobility devices because these were originally exempt from customs and other supporting duties. By doing so, India missed an opportunity to replicate Australia and Canada, which exempted health care and mobility aids while introducing GST. Incidentally, in the 2016 budget finance minister Arun Jaitley had exempted imported Braille paper from any kind of taxation.
The latest government decision shows insensitivity, ignorance and a lack of understanding of the needs of Persons with Disabilities (PWD).
This should not have been the case because today the disability movement worldwide is starting to look at disability as a social problem rather than as a medical problem.
In other words, disability is not impairment. It is caused by barriers that exist in society preventing the PWD to enjoy their rights.
The government has taken several initiatives for PWD: Ten years after India signed the United Nations Convention on the Rights of Persons with Disabilities, India today has a new disability law. It has also launched the Accessible India Campaign that focuses on accessibility. Recently we saw the launch of the Inclusive India campaign for those with intellectual disabilities that stresses on inclusive education, employment and community life.
But this new tax on a wheelchair or on Braille typewriters and papers, which is equivalent to a tax on walking or seeing, is a huge setback for us.
According to the 2011 census, 2.21% of India's population is disabled. But other estimates hint at the disabled population being somewhere between 10 and 15%. It is time India starts looking at the disabled as a resource. Let's not drain this resource by making the mobility aids unaffordable. Instead, let's nurture this resource by giving PwDs opportunities to avail the best education and health care and provide them jobs. An income-tax paying disabled person could add substantially to India's GDP. Only by ensuring this, can Prime Minister Narendra Modi fulfil his 'Sabka Saath Sabka Vikas' dream.
Nipun Malhotra is CEO, Nipman Foundation, and Founder, Wheels For Life.
@nipunmalhotra
The views expressed are personal
Close