If elected, Ram Nath Kovind will be first UP-born President
Kovind is a two-time Rajya Sabha member and former national spokesperson of the BJP.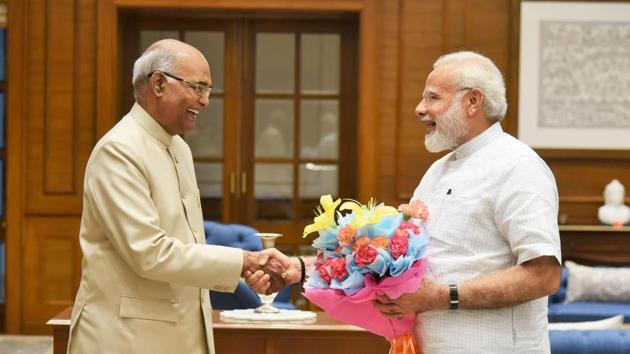 Updated on Jun 27, 2017 12:37 PM IST
Hindustan Times |
Vinod Sharma
The BJP's Ram Nath Kovind is all set to be the country's first President born and brought up in Uttar Pradesh.
Till now the Rashtrapati Bhawan's third occupant, Zakir Hussain, was the only one with direct association with the key state. But he wasn't born in UP. His family migrated to Farukkhabad from Hyderabad, his place of birth in what's now Telangana.
Of the thirteen prime ministers starting from Pandit Nehru, seven were from UP. It isn't surprising then that presidencies went to other provinces; the imperatives of representative democracy necessitating regional parity in selection of candidates for high constitutional offices.
From the BJP's standpoint, the elevation of Kovind -- born in 1945 in Derapur sub-division of what is now Kanpur Dehat -- will fetch it the credit for installing a Dalit as the country's president. The only scheduled caste president before him was KR Narayanan, the thirteenth incumbent.
Kovind isn't as erudite as his predecessor who was a student of Harold Laski. It was the latter's recommendation to Nehru that fetched him a job in the Indian Foreign Service.
Barring unforeseen circumstances, Kovind's election should be a foregone conclusion. He will bring to the high office his parliamentary experience as two-term member of the Rajya Sabha. He also practiced law for over 15 years' in High Court and Supreme Court.
Be that as it may, a political consensus appears unlikely on Kovind's candidature. At the same time, it will be difficult for Opposition parties to reject upfront a Dalit for the presidency. The options available to them include fielding a tribal or another Dalit by showing their choice as more meritorious for the top job.
The BJP's selection announced by its president Amit Shah seems guided more by political expediency than suitability for the indirectly-filled constitutional office. On the face of it, Kovind's elevation is expected to repair and consolidate his party's social base. There are worries that tensions between scheduled castes and Chief Minister Yogi Adityanath's Rajput clansmen in UP could unravel the saffron parivar's socio-electoral engineering.
As much integral to that social repair-cum-consolidation script is Prime Minister Narendra Modi. He's a backward who represents UP and not his home-base of Gujarat in the Lok Sabha. That makes it a "one-plus-one equal to eleven" deal for the populous state which is central to the BJP's game to win Delhi in 2019.
Close Story