India-Israel ties: 25 years later, they still remain transactional
Jan 13, 2018 06:32 PM IST
Indian commitment to Palestinian aspirations is not only principled, it's also linked with India's core interests in that a large chunk of Jammu and Kashmir is under illegal Pakistani occupation. Hence, there is no way India can countenance Israel's unilateral actions in the occupied territories without seriously compromising its own claims
Today, Israeli Prime Minister Benjamin Netanyahu will commence his six-day sojourn in India, six months after Prime Minister Narendra Modi's landmark visit to Israel. Modi's visit had celebrated 25 years of diplomatic ties between the two countries and had applauded the extraordinary achievements in bilateral relations during this period.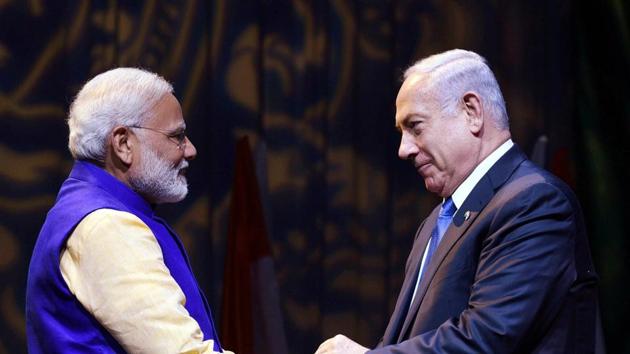 Israel has become a major defence supplier to India, a strong security partner, a collaborator in the high-value diamond trade, and a provider of frontier technologies in agriculture, water, cybersecurity and innovation. Not surprisingly, during his visit, Modi enthusiastically coined the term, "I4I", standing for "India for Israel and Israel for India", while Netanyahu spoke of: "I squared, T squared", standing for, "India-Israel Ties for Tomorrow".
Netanyahu's visit will exemplify the joint commitment to boost and diversify economic ties. Netanyahu is accompanied by a 130-strong business delegation to engage with Indian counterparts.
It will also highlight the countries' shared interest to fight extremism with the prime minister's visit to Mumbai to commemorate the November 2008 attacks. Netanyahu will visit the Taj Mahal hotel and Chabad House, where he will be accompanied by 11-year-old Moshe Holtzberg, who as a baby survived the attack in which his parents were killed.
This will be followed by Netanyahu's engagement with Bollywood at an event titled Shalom Bollywood, at which he will meet personalities from Indian cinema and plead with them to shoot their films in Israel.
In the political area, Netanyahu will face some difficulties. The two countries share concerns relating to extremism and violence, but beyond that their priorities differ. Israel is deeply concerned about increasing Iranian influence in West Asia and is anxious to curtail it, particularly in Syria and Lebanon. India, on the other hand, sees Iran as a strategic partner in establishing logistical links to Afghanistan, Central Asia and Russia through the Chabahar port, being developed with active Indian participation.
Israel and India also differ on China: Israel has welcomed the One Belt, One Road (OBOR) initiative sponsored by China and is eager to participate in the development of networks in the region. It does not share India's concerns relating to expanding Chinese influence in South Asia and the Indian Ocean region.
Above all, the two countries part company on Palestine, as evidenced most recently by the Indian vote in the UN General Assembly criticising the United States decision to recognise Jerusalem as Israel's capital. Displaying contempt for international opinion, Israel has moved to change Jerusalem's demographic character by separating the Arab populated areas from the main city and 'Judiize' this disputed city. Israel's Knesset has also legislated that no part of 'United Jerusalem' will be ceded without the backing of at least 80 Knesset members.
US President Donald Trump, responding angrily to Palestinian criticism relating to his Jerusalem announcement, has cut funding to the United Nations Relief and Works Agency (UNRWA), which since 1949 has looked after Palestinian refugees displaced in conflicts with Israel.
Thus, it seems that the three issues that are central to the final Israel-Palestine settlement, i.e., emergence of a viable and sovereign Palestinian State with East Jerusalem as its capital and the right of return of refugees, are being superseded by the deliberate creation of new realities in the occupied territories.
Indian commitment to Palestinian aspirations is not only principled, it is also linked with India's core interests in that a large chunk of Indian territory in the state of Jammu and Kashmir is under illegal Pakistani occupation. Hence, there is no way India can countenance Israel's unilateral actions in the occupied territories without seriously compromising its own claims.
Thus, despite the bloated rhetoric by Rightwing elements on both sides, ties between Israel and India will remain transactional. This is best illustrated by the headline in the Israeli daily, Haaretz: India Wants an Affair when it Comes to Israel, not a Serious Relationship.
Talmiz Ahmad is a former diplomat
The views expressed are personal