Is Pranab Mukherjee being pro-dialogue or ideologically ambidextrous?
New Delhi, Hindustan Times |
Vinod Sharma
May 31, 2018 07:24 AM IST
Former President Pranab Mukherjee, who is just a citizen now, is politically unaligned except in legacy terms.
The brouhaha over Pranab Mukherjee's proposed visit next month to the Rashtriya Swayamsevak Sangh (RSS) headquarters isn't one bit surprising. For that's the line his erstwhile party, the Congress, had drawn to not cross ever.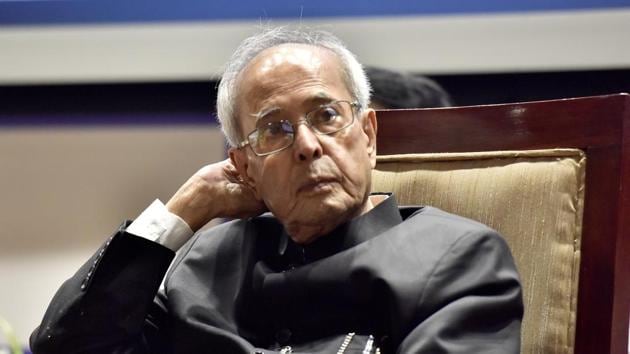 But in some ways the uproar is premature. The former President, who is just a citizen now, is politically unaligned except in legacy terms. His critics and skeptics could've done better by holding fire until they'd heard him speak to his RSS audience.
For just the other day, Mukherjee paid glowing tributes to Jawaharlal Nehru on his death anniversary. On his Twitter handle @CitiznMukherjee, the former President hailed the first Prime Minister as an outstanding statesman who "shines for his vision and his lifetime of devotion to the nation."
Contrast that with what the Sangh thinks of Nehru, and the ideological hiatus between Mukherjee and his July 7 hosts in Nagpur would be wide open. To state the least, the RSS calculates in loss terms the Congress icon's benefactions as the maker of modern India and the leading light of the freedom struggle. In their myopic relation of history, he lost the war with China, and bequeathed the festering wound that's Kashmir.
Never before has Nehru been so relentlessly demonized in post-Independence India. But Mukherjee seems to be styling himself after Atal Bihari Vajpayee — an ideological opponent of the Congress who honestly rendered unto Nehru what was Nehru's.
In fact, the now ailing former PM's May 29, 1964 tribute to Nehru in the Rajya Sabha is, in its poignancy, an elegy reminiscent of Tennyson's In Memoriam. That was the age in which opposition came without animus, disagreement with deferential regard.
In fact, Vimla Sindhi, who served as caretaker at the then PM's residence, the Teen Murti Bhawan, told me in 1989--- the year of Nehru's birth centenary-- that she saw Vajpayee weeping like a child at Nehru's funeral. She also remembered Nehru telling her to serve soup to GB Pant in a special mug at a dinner he had hosted for him. The Congress right-winger from Uttar Pradesh – known to have uneasy ties with the PM—had a tremor in his hands. Nehru didn't want him embarrassed.
Equal admirers of Nehru, Vajpayee and Mukherjee retained the values they inherited from that era. In fact, they're staunch votaries of democracy driven by debate and the parliamentary courtesies associated with it.
It is unimaginable then that someone with a parliamentary career spanning 48 year, including a stint in the Presidency, could lose his mornings in reaching out to an ideological fountainhead he fought all his life. More so when his role models in Parliament were from the Left and Centrist streams: Bhupesh Gupta, Hiren Mukherjee, Chitta Basu, Joachim Alva, Madhu Limaye, Mahavir Tyagi and of course, Vajpayee.
I have learnt on good authority that the growing confrontation in the country's polity moved Mukherjee to accept the RSS invite for its possible salutary value. He's disturbed as much by the falling standards of public discourse, especially the language used to deride opponents. It is possible that he might touch on these issues in his July 7 address to freshly-minted RSS cadres.
But many on the "secular" side of the divide insist the former President was being ideologically ambidextrous for whatever reasons. "He has unnecessarily lost his neutrality," argued a senior Congressman. "Whatever he wanted to tell the Sangh, he could've said it from outside without affording them symbolic use of his visit so close to the general elections."
Parallels are also being drawn with past presidents from the Congress stable: Shankar Dayal Sharma and R Venkataraman. The former was a staunch Hindu but the first to denounce the demolition of the Babri Mosque at Ayodhya. The latter sat on a dharna with Vajpayee and LK Advani to protest the arrest of the Kanchi Shankaracharya on murder charges by the All India Anna Dravida Munnetra Kazhagam regime in Tamil Nadu.