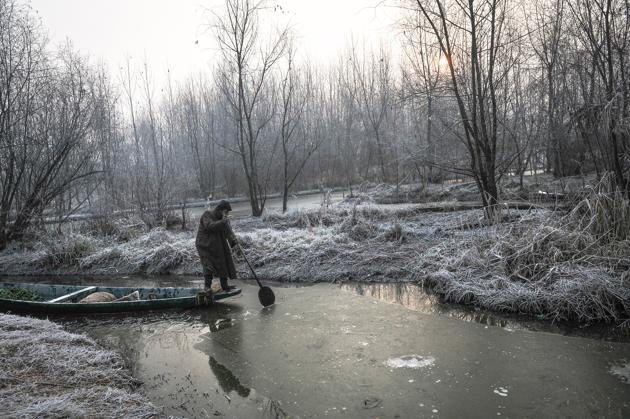 Mehbooba's warm gesture can help get peace back on track as militancy dips in winter
J and K chief minister Mehbooba Mufti has directed state officials to review cases against youth who were not involved in any "serious offence" during the recent unrest in the Valley or "were too young."
UPDATED ON DEC 26, 2016 01:38 PM IST
Kashmir is covered under a thick blanket of snow during the 'Chillai Kalan', the 40-day long period of harsh cold beginning December 21. Owing to the inclement weather, the frost and fog are making it tough for the people of the Valley to venture outdoors and address their day-to-day needs for firewood, fuel and food rations.
But the inhospitable terrain also makes it impossible for infiltrators to sneak in into the Valley. That is why there is a perceptible dip in insurgency-related activities during this time of the year. On Sunday, Mufti directed state officials to review cases against youth who were not involved in any "serious offence" during the recent unrest in the Valley or "were too young." Jammu and Kashmir chief minister Mehbooba Mufti's confidence building measures could not have been better timed.
The move takes forward the line of thinking recommended by a number of high-powered government panels including the official three-member group of interlocutors headed by the late journalist Dilip Padgaonkar. Another indicator that conditions are on the mend in the Valley comes from the government's decision to revoke its ban on Srinagar-based English daily Kashmir Reader and allow it to resume publication after shutting it down for three months.
Earlier this month, two factions of the separatist party alliance Hurriyat Conference and the Jammu and Kashmir Liberation Front, which had been spearheading the five-month-long unrest in Kashmir, had in a joint statement, invited tourists and pilgrims to visit the Valley.
The Centre needs to support confidence building measures such as releasing youth involved in minor cases of stone-pelting. This indicates that the government is responsive to the hardships being faced by the locals in the wake of the series of violent protests that gripped the Valley since the killing of Hizbul Mujahideen commander Burhan Wani on July 8. About 100 civilians were reportedly killed in the security crackdown that followed Wani's killing. Though many top separatist leaders have been released, several youths involved in cases of stone-pelting in the Valley are still in custody. Gestures such as Mufti's can go a long way in putting salve on the wounds of the Kashmiri people. Alongside, there must be measures to mitigate the hardships people are suffering on account of lack of power and medical facilities. Easing restrictions on movement would also help.
Close