Ode to a remarkable era of cartoonists, and their ideals
Updated on Jan 21, 2023 07:43 PM IST
Cartoons can pack a power punch that can bore a tunnel through sanctimony, vileness, and folly among the powerful. This is the legacy of several remarkable cartoonists that we must remember as we mark Republic Day.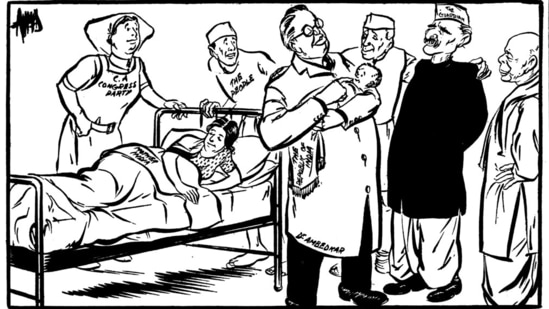 Bill Mauldin died 20 years ago, on this day, January 22.
Bill who? A natural question for any reader to ask.
The name is practically unknown in India. Nor is it likely to be immediately recognised in his own country, the United States (US), either. Except by journalists of World War II vintage, cartoon buffs, collectors, and dealers in original caricatures and cartooning stock-in-trade. But within that select band, the name is cherished as that of an exceptional cartoonist whose work for Stars and Stripes, the American "soldiers' newspaper", founded in 1862, and, later, for Chicago Sun-Times, as its cartoon commentator saw him win two Pulitzer Prizes, among others, for cartooning. Cartoon commentator was a job title he suggested in preference to editorial commentator, which he felt would make his cartoons seem a mere cartoon variation of editorials. That describes Mauldin — independent, confident, smart.
We have had but little occasion to see the bulk of Mauldin's stunning work. But that sinewy thing, the internet, has shown me specimens of it that I cannot but call by any phrase other than the art of portraying a pain that laughs. Copyright regulations will not make it possible for this column to be illustrated by Mauldin's cartoon images, but readers could find them easily online. They will not regret the effort.
After courses in political cartooning at the Chicago Academy of Fine Arts in 1940, Mauldin enlisted in the press corps of Arizona National Guard's 45th infantry division, and hit the road in a jeep on the European front, getting wounded on the shoulder by a German mortar during a field trip near Rome. Willie and Joe, the scraggy but stoic infantry troopers created by him became household names in no time all over Europe and the US. The two were featured by Time on its cover after the war for its June 18, 1945, issue. His first Pulitzer came for a war-time cartoon and the second for a plangent one for a 1958 cartoon depicting Soviet author Boris Pasternak in a Gulag, asking another prisoner, "I won the Nobel Prize for literature. What was your crime?"
Two cartoons of his that are world-famous and immortal are, ironically, about death and becoming immortal.
The first appeared in Chicago Sun-Times in 1963, immediately after the assassination of President John F Kennedy. It shows Abraham Lincoln in his high seat at the Lincoln Memorial, not sitting bolt upright as the sculpture has him do, but holding his head in his hand, in utter speechless despair. The cartoon is silent. Yet, it speaks volumes. It howls.
The second is a 1968 creation. It shows a scene from Yon High. An old MK Gandhi is seated on the floor, cross-legged Indian style. He got to Cloudland 20 years earlier, in 1948, with three bullets having gone through his torso. He is joined by Martin Luther King Jr, who has just been gunned down. Gandhi says to the smiling, suited-booted King: "The odd thing about assassins, Dr King, is they think they have killed you."
That makes you laugh. It makes you laugh a kind of sad laugh, for, yes, the three men Mauldin has sketched — Lincoln, Gandhi and King — have not gone away. Nor, in his own way, has Kennedy. And yet, all four of them show the truth of George Bernard Shaw's words at Gandhi's assassination: "It is dangerous to be good."
So, cartoons are not always — or only — for a good laugh. They are that, of course. And they better be, for Mauldin's sake. But they are about something more — truth. Not that high thing with a capital T but that small, true thing with a small "t" that cartoons can invest with a power punch that can bore a hole, a tunnel, actually, through sanctimony, vileness and plain folly among the powerful.
There was a time not long ago when men and women portrayed in cartoons resembled the originals. K Shankar Pillai (1902-1989), the guffaw in Indian cartooning, and RK Laxman (1921-2015), its chuckle, drew their subjects with staggering accuracy. As did, among many others, OV Vijayan and Rajinder Puri and a host of great cartoonists in our own Indian language press.
Nowadays, the originals seem to want to live up to their cartoon selves. And so, laughter is under strain, and cartooning is in trouble. We live in a world where lead is trying to pass lead for silver, tin for gold, and cement crumbles for the Kohinoor. That itself would be a fit subject for cartoons, were it not for the fact that these specimens of lead, tin, and cement are in themselves not real lead, tin and cement either. It is difficult to do a spoof on spoofs.
Ours is also the age of aggressiveness that defies the pain that laughs. What can a cartoon, as distinct from a pictorial illustration, say about Ukraine's agony, or on what is happening in Israel or Iran? Only a master satirist such as Charlie Chaplin could make of Hitler, a figure of searing fun. George Orwell could do that too. But you cannot laugh in pain at the tragic evils of our time for they are being enacted in post-sceniums of cunning, deceit, and a mix of vileness that is yet to find its name.
This is why this anniversary of Mauldin's passing makes me see Lincoln, not holding his head in agony but turning in his high seat, sideways, in a laugh arrested by the cartoonist's truth of the day: Laughlessness, the cousin to tearlessness. And it makes me see King Jr saying to his elder Yon High: "The trouble down there now, Gandhiji, is the killers don't think at all."
On this anniversary of Mauldin's passing, and on the eve of our Republic Day, I would like to invoke the memory of a historic cartoon in India carried by Hindustan Times on January 24, 1950. It was by the newspaper's ace cartoonist Enver Ahmed, famous as the creator of the turbaned Chandu and his adorable wife. In the cartoon, Ahmed — and the newspaper — show Mother India as having just delivered a baby — the Republic of India, held tenderly by BR Ambedkar, with Jawaharlal Nehru and Vallabhbhai Patel looking on and the President-to-be Rajendra Prasad standing beside them with 'The Guardian' written on his cap.
It is a most moving cartoon, showing that genre's role as a public educator, apart from its function as the trigger of innocent laughter. In his foreword to a 1937 compilation of Shankar's cartoons (101 Cartoons from the Hindustan Times. Delhi: Printed at The Hindustan Times Press, 1937) Nehru wrote, "How many of us have waited day to day for Shankar's cartoon? How many of us have turned to the page of Hindustan Times containing this cartoon before we have seen the news of the day? That cartoon has not only given us pleasure but a new insight into current affairs. For a true cartoonist is not just a maker of fun but one who sees the inner significance of an event and by a few master-strokes impresses it on others."
Nothing can help us see the inner significance of this Republic Day of ours better than that cartoon by Ahmed.
Long live cartoons and cartooning!
Gopalkrishna Gandhi is a former diplomat
The views expressed are personal
This Republic Day, unlock premium articles at 74% discount
Enjoy Unlimited Digital Access with HT Premium
Topics