Policies and People | Climate crisis: Draw up a policy on internal migration
Mar 10, 2022 11:14 PM IST
India needs a comprehensive policy on internal migration as sudden and large-scale displacements due to the climate crisis are likely to become frequent
Last week, Climate Trends, a New Delhi-based communications strategy initiative, focussing on building public understanding and discourse on issues of the climate crisis, environment and clean energy, released a series of case studies on the impact of the climate crisis on the lives and livelihoods of people.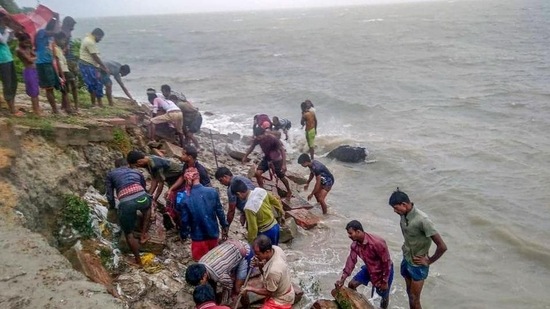 One of the stories is about Pravin Chaugule of Shirdhon Village, Raigad district, Maharashtra. His family has been growing sugarcane for generations. But today, Chaugule is forced to abandon sugarcane for short-term crops. "We used to grow sugarcane, which takes 12-14 months. Rains have become unpredictable. We do not see rains during the sowing season, while we see incessant rains during the harvesting time. This has had a huge impact on the quality as well as yield. I am now sowing soybean, cicer and urad, which just takes three-four months and damage cost is also lesser than sugarcane," said Chaugule.
This forced change in the agricultural pattern is not surprising. Agronomic studies have established that warmer climatic conditions will not favour agrarian productivity. "Temperature rise is most likely to reduce traditional rainfed and irrigated cash crops like jowar, bajra, pulses, sugarcane, onion and maize. Also, warm winters will have a significant impact on wheat production in terms of quality and yield," explained Rahul Todmal, assistant professor of geography, University of Pune.
While Chaugule is still brave enough to continue farming, many are being forced to give up, and leave their homes searching for livelihood. Moreover, climate crisis-induced movement will increase in the coming years, warns the Intergovernmental Panel on Climate Change (IPCC)'s Sixth Assessment Report on Impacts, Adaptation and Vulnerability, released on February 28.
"We are on the cusp of a major environmental change that is going to redistribute populations on a planetary scale," Francois Gemenne, a lead author of the report, told AFP.
"There is increased evidence that climate hazards associated with extreme events and variability act as direct drivers of involuntary migration and displacement and as indirect drivers through deteriorating climate-sensitive livelihoods (high confidence)," says the IPCC report. "The impacts of climatic drivers on migration are highly context-specific and interact with social, political, geopolitical and economic drivers (high confidence)."
The trafficking trap
Forced displacement alienates the poor from their rights to natural resources, income, livelihood, habitation and human dignity, writes Umi Daniel, director, Migration Education in Aide et Action International, in State of India's Environment 2022, published by the New Delhi-based Centre for Science and Environment (CSE).
Other than these impacts, the climate crisis-induced extreme weather events put women, children, and minorities at risk of modern slavery and human trafficking.
The phenomenon is on the rise, among other countries, warned the International Institute for Environment and Development and Anti-Slavery International in a report released in November 2021.
Modern slavery — including debt bondage, bonded labour, early or forced marriage, and human trafficking — converge with the climate crisis, particularly climate shocks and climate-related forced displacement and migration, the report says. Giving the example of climate-hit Sundarbans, the report says, many women are being trafficked and forced into hard labour and prostitution.
"We have always survived on government ration. After Amphan and Yaas cyclones, we had to live at an ashram because we had no home left. So, when we got a chance to work in Delhi, we jumped at it. We never thought we would be sold for sex work. We just wanted to bring in some money," a trafficking victim told Down To Earth (DTE), a CSE publication.
"If we overlay trafficking network map with the climate-affected, we will see many of the source areas are climate-affected zones," said a DTE ground report presented at the Anil Agarwal Dialogue 2022, an annual media conclave organised by CSE, recently.
"While the climate crisis and trafficking link is still anecdotal, there is growing concern about the issue in the Asia Pacific," said Chris Richter, Migration, Environment, and Climate Change Regional Thematic Specialist, International Organization for Migration, a United Nations agency.
A comprehensive policy
India needs a comprehensive policy on internal migration as sudden and large-scale displacements (like those prompted by the climate crisis) are likely to become frequent, says Daniel.
The policy, he adds, must look into five key issues:
First, it should thoroughly study the country's migration and displacement hotspots, map the risks and hazards, and assess human vulnerability.
Second, the policy should prioritise investment in disaster mitigation, natural resource management; resilient infrastructure, and livelihood regeneration.
Third, through effective programmes and policy measures, the national policy must reduce distress, involuntary and unsafe migration.
Fourth, it must ensure that regions that receive the migrant workers are planned and equipped to house them humane, inclusive, and disaster-resilient support systems.
Last but not least, all internal migrants should have greater access to social protection, meaningful rehabilitation, livelihood opportunities, and access to citizenship rights.
Continue reading with HT Premium Subscription
Daily E Paper I Premium Articles I Brunch E Magazine I Daily Infographics