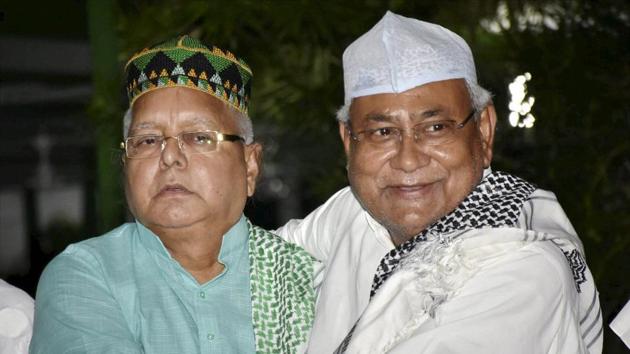 Survival of Bihar grand alliance vital for Opposition chances in 2019
All Opposition parties that want to craft an alternative to the BJP in the 2019 general elections have a stake in what happens in Bihar in the coming days
By Neerja Chowdhury
UPDATED ON JUL 19, 2017 08:31 PM IST
The Opposition misses the presence of a personality like the late CPI(M) leader Harkishan Singh Surjeet who would have by now got Lalu Prasad and Nitish Kumar to sit across the table and find a way out of the impasse that is developing in Bihar, threatening the Mahagathbandhan (grand alliance) government which was crafted by the two foes-turned-friends in 2015. And it was this that stopped the otherwise unstoppable Modi juggernaut in its tracks.
Though Sharad Yadav met Sonia Gandhi last week, urging her to mediate, and the JD(U) leaders have urged the Left leaders to use their good offices with Lalu, so far it has yielded little.
With neither side ready to give way, the situation is becoming graver by the day. Lalu has ruled out the resignation by his younger son Tejashwi Prasad, who is deputy CM of Bihar, after serious allegations have surfaced against the RJD chief and his family for holding huge benami properties. On Tuesday, Nitish had a meeting with Tejashwi at the old secretariat in Patna, where the deputy CM clarified on the charges against him.
For Nitish who had earlier sent three of his ministers packing, when faced with similar charges, including former CM Jitan Ram Manjhi, it is becoming a do or die battle. For if he accepts the situation as it is, he will lose his unique selling point which distinguishes him from other regional leaders like Mayawati, Mulayam Singh Yadav, or Lalu. The others have also stood for backward/Dalit consolidation and for the advocacy of secularism, but Nitish has stood apart because of his clean image and his track record in governance. That is why, in 2014, the people of Bihar voted for Narendra Modi in the general elections, but turned to Nitish during the state polls a year later. And, it was his coalition with Lalu's RJD that won the polls.
Yet, Nitish knows only too well that whenever he has contested on his own, he has come a cropper. He has won only when in an alliance, either with the BJP or with Lalu; and he is too much of a realist not to realise this ground reality.
But the Bihar chief minister also knows that if he has to compromise on his USP (anti-corruption, clean image) to stay in power, he and Lalu will both be devoured by Modi in the 2019 general elections and in the 2020 state assembly polls.
Thus, breaking with Lalu and turning to the BJP for help is an option — though after initially signalling its readiness to extend outside support to Nitish, if his alliance with the RJD fell apart, the BJP has suddenly turned cold. With outside support Nitish would remain CM, but he realises that under a Modi dispensation things would not be the same as it was during the Vajpayee-Advani era when he had enjoyed a functioning autonomy in his alliance with the BJP. There is also no reason why a resurgent BJP should hand Nitish the post of the CM in 2020, when it can have a leader of its own.
Given the mood in India today, clearly, it will have to be someone with a clean image who can take on Modi in 2019. Backward and secular politics by itself, or politics of entitlement, where 'social justice' parties (be it the SP, RJD, INLD, or for that matter the Congress) depend on a single family, will not be enough of a draw for an India that is becoming increasingly young and aspirational. Gone also are the days when amassing wealth was passé in the name of secular politics.
Just as the continuation of the Mahagathbandhan is a better option for Nitish, so is it for Lalu. Out of power, the situation will become even more untenable for Lalu and his family.
In this situation, the best case scenario is for Tejashwi to resign in the larger interest of the Mahagathbandhan, and make a virtue out of a necessity. He is young with a future ahead of him and quitting at this stage, in the larger interest, will only enhance his stature. Nitish has not asked him to quit, but only to go to the people and tell his side of the story. What is more, if he decides to go back to the people, and contest again for his assembly seat, even resigning as MLA (as suggested by some), he might just win and that would be a political endorsement of his stand. Lalu knows only too well that he will have to fight politically to counter the charges that have been levelled against him and his family.
If the Bihar Mahagathbandhan cracks, the Opposition can forget about its chances in the 2019 polls. So, all the Opposition parties that want to craft an alternative to the BJP have a stake in what happens in Bihar in the coming days.
Neerja Chowdhury is a senior journalist
The views expressed are personal
Close