Terms of Trade | The pitfalls of gerrymandering history
Updated on Nov 25, 2022 09:03 PM IST
All regimes have shown hubris in using history as a tool to justify their political project, while couching it within the rhetoric of national interest. In the process, both the Left and the Right have displayed their blind spots.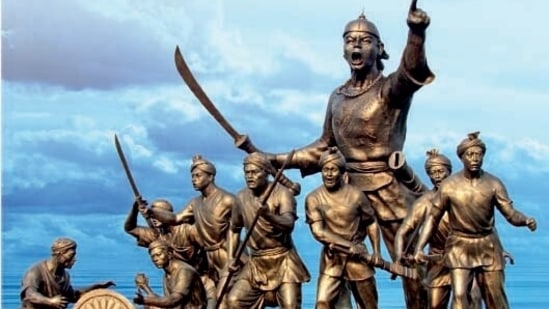 On November 22, HT reported that the Indian Council for Historical Research (ICHR), the ministry of education's nodal agency for funding historical research in India, has commissioned a new project for producing a comprehensive history of India. "The project will focus on representing the pride of India, and present Indian history through a 'geocultural' perspective, and not with a 'geopolitical perspective'," the report quoted a former ICHR official and a professor of history at Jawaharlal Nehru University.
Days after this announcement, union home minister Amit Shah gave a clarion call of sorts to historians to embark upon a project of writing a new history for India. "I hear many times that our history has been misrepresented… it has been distorted. There is a possibility that what has been written was right, but who can stop us now from rewriting our history with pride? We will have to amend this and put our history in front of the world with pride," Shah said in a programme commemorating the 400th birth anniversary of Ahom General Lachit Barphukan.
The conflict over history, and by extension, history books, is not entirely new in India. The Bharatiya Janata Party (BJP) and its ideological fellow travellers have always accused, what they describe as left-leaning historians, of purging official history of India's Hindu icons. With the BJP's grip over state power (and its associated institutions) now strongest than it has ever been, Shah's challenge can be seen more as a proclamation of final victory in the long battle of historiography between the right and left.
To be sure, this edition of the column does not intend to deal with the merits or lack of it of various schools of history in India. This is a job best left to trained historians.
However, what cannot be left to historians alone is the belief among regimes of all ideological persuasions — this often borders on hubris — that deploying selective versions of history is an effective way to not just safeguard partisan political hegemony but also further "national interest". This is actually a process similar to gerrymandering of electoral constituencies.
History wars: The Right's selectivity
It is useful to start with the example of Assam's history itself. Barphukan's cult-like status in Assam is rooted in regional pride of a local warrior successfully fighting against an invading, perhaps much stronger, army of Mughals. India, when the battle of Saraighat took place in the 17th century was a not unified nation state like today, and the Ahom kingdom was perfectly justified in militarily defending itself against the invading Mughals. Ironically, illegal armed conflicts continue to take place across borders of many Northeastern states including Assam even today, and the latest clash between Assam and Meghalaya actually cast a shadow on the celebrations of Barphukan's birth anniversary celebrations in Delhi.
Similarly, the roots of Assam's Hindu-Muslim communal fault line – data from the 2021 CSDS Lokniti post poll survey shows that the BJP's electoral victory was the result of a massive Hindu polarisation – have a sharper historical origin than what an uncritical extrapolation of Barphukan's political imagery will suggest. Unlike many places in northern India, where Mugahls and previous Muslim rulers are seen as oppressors by the Hindu right because they indulged in acts such as destruction of Hindu temples and are supposed to have forced large-scale conversions, tensions with Muslims escalated in Assam through a very different route.
Bulk of the pre-independence Muslim migration in Assam was driven by import of largely Muslim labour from the Ganga-Brahmaputra delta region to work on farms, rather than an invading army of a Muslim ruler. Of course, once the Muslim peasantry settled in, conflicts started around land rights and other local issues. Political events post-independence including the creation of Bangladesh have led to a new surge in Bengali migration in the state. The state has seen multiple rounds of protests against what is widely seen as a threat to demographic and cultural domination of the indigenous Ahom population and policies such as National Register of Citizens (NRC) have been a political fallout of these movements.
This is one reason a large part of the pro-NRC constituency in Assam was strongly opposed to the pro-Hindu Citizenship Amendment Act (CAA). The local Ahom population believes that the CAA would legalise the large number of Hindu Bengali migrants in the state, who were considered an almost equal cultural adversary by the indigenous Ahoms. We have not seen the final resolution of this conflict yet and one will have to wait for the final implementation of NRC and CAA to see which way it goes.
The larger takeaway of this discussion is that while valorisation of history of the Ahom Kingdom can buttress the cultural pride of the indigenous population in Assam, it is of little use in solving the so-called "geopolitical" challenges in the state. In fact, such challenges are bound to become worse in the future as the climate crisis wreaks havoc on the extremely ecologically fragile Ganga-Brahmaputra delta region. For a modern state, such historical projects can at best be a part of its hegemony-building arsenal rather than providing an objective historical insight that enlightens policymaking.
Another example of problems of such uncritical extrapolation of ancient culture and history can be seen in a recent article published in Panchjanya, the mouthpiece of the BJP's ideological parent, Rashtriya Swayamsevak Sangh.
The article while appreciating the recent Kannada super-hit film Kantara – it is the story of a Scheduled Tribe village successfully evoking their demi-god to protect their land rights with help from a local forest official against a greedy landlord – criticises left-leaning accounts vilifying the state, and in the process legitimising Maoist insurgency in India's tribal regions.
The Maoists, of course, have their own problems and the movement or whatever remains of it has pretty much mutated into an orgy of diabolic violence in most places. However, any claim which undermines or negates the enormity of conflict between state (in assistance with big capital) and tribals over natural resources is factually wrong.
The biggest example of this is the protracted struggle of Dongria Kondh tribe in Niyamgiri, Odisha to protect the sacred Niyamgiri Hills-home of their God, Niyam Raja-from mining giant Vedanta Resources' plan to extract 73 million tons of bauxite from the hills. To accept this fact is not to negate the ancient traditions but recognise that contradictions have shifted with the development of capitalism in India.
Where the Left showed its blind spots
Of course, this is not to argue that what the Hindu right claims to be Marxist historiography and its pedagogical components are completely apolitical and driven by nothing but the absolute truth. Ironical as the Hindu right may find it, this point has been highlighted by many historians who are otherwise politically opposed to the BJP.
An earlier instalment of this column had quoted a 1994 Economic and Political Weekly article by one of India's most eminent economic historians Dharma Kumar to make this point. While Kumar described herself as a "modern unbeliever" and a passionate believer in secularism, she argued that claims of existence of a composite culture during the period of Muslim rulers in India might be a half-truth as such accounts only captured the culture of the royal courts rather than lives of people at large.
Another instalment of this column discussed how Jawaharlal Nehru University historian Majid Hayat Siddiqui broke ranks with his peers who were arguing that there was conclusive historical and archaeological proof to dismiss claims of the supporters of the Ram Janmabhoomi movement.
In fact, in a 2009 article published in the History Workshop Journal, another JNU historian Neeladri Bhattacharya explicitly explains the politics behind pedagogy of history in India. "Anxious about the growth of communalism, and haunted by the fear of communal violence, secular historians returned to the past to build the premises of a humane, secular and democratic present. They questioned communal assumptions, deconstructed communal stereotypes, and presented secular counter-narratives of the past. If communal historians saw only the hard lines of the boundaries that separated the communities, secular historians emphasized the open-endedness of these boundaries. If communal historians looked at the communities as homogenous and unitary, secular historians pointed to the heterogeneity and fragmentation amongst them. If communal historians saw the past as a time of communal discord, secular historians sought to underline the elements of concord, harmony and togetherness. If the Hindu right represented the Muslim rulers as intolerant, oppressive, bigoted and cruel, the secular textbooks showed that they were open-minded and tolerant, that they were patrons of Hindu shrines and arts, and they nurtured a syncretic culture", Bhattacharya writes.
The deeper crisis of pedagogy
While such historiography, especially in textbooks and its political deployment, has been criticised by other historians (as has been discussed above), even hoping for a "completely objective historical account" is going to the other extreme of the problem.
History writing, as one of India's most eminent intellectuals – his prowess extended from history to mathematics and many other subjects – correctly described, is organically linked to the larger social environment in which it is being written. "To be more attractive, history must reflect a man's progress at satisfying his needs in cooperation with all his fellow men, not the success of a few at satisfying them at the expense of most of their fellow men", Damodar Dharmananda Kosambi wrote in the introduction of his cult classic An Introduction to the Study of Indian History.
Kosambi's seemingly simple explanation of the motivations behind history writing are essential for understanding the BJP's larger political motivation to rewrite history. It will be naïve to assume that the BJP's current dominance is a result of a simple Hindutva rhetoric, as some of the left-liberal commentators tend to believe. Behind the BJP's massive victory in 2014 and thereafter was also a campaign promising a complete turnaround in India's economic fortunes.
The same politics attributes the reasons for India's current predicament to not just governance deficit but also argue that it was a result of the ideological persuasion of the past rulers, especially India's first prime minister Jawaharlal Nehru who, the BJP and its ideological companions argue, was inclined towards a westernised Marxist worldview.
The regime's current push towards rewriting history and resurrecting India's ancient (read Hindu) cultural prowess is sold as an academic exercise which will not just produce new books but also rejuvenate the country's consciousness at large. As anybody who understands modern capitalism will agree, the future of India as a nation will be shaped not by subjective accounts of history but the content of policies, economic and otherwise, to deal with the challenges of the present and the future. Mechanically extrapolating selected historical accounts or half-truths is more likely to create problems in meeting this challenge than help in their resolution.
As far as the battle over history and what is often described as the larger battle over Idea of India is concerned, it will have to be fought consistently in the realm of politics as well as academic history.
Is there a correct path one should take in dealing with this question?
In a 2005 interview to The Paris Review – Recep Tayyip Erdoğan was already the prime minister of Turkey by then – Nobel Prize winning Turkish writer Orhan Pamuk was asked a question whether or not he believed the constant confrontation between Turkey's Eastern and Western impulses will ever be peacefully resolved. Pamuk's answer, although he uses a politically incorrect analogy, is extremely useful to navigate the current political environment in India. "I'm an optimist. Turkey should not worry about having two spirits, belonging to two different cultures, having two souls. Schizophrenia makes you intelligent. You may lose your relation with reality – I'm a fiction writer, so I don't think that's such a bad thing – but you shouldn't worry about schizophrenia. If you worry too much about one part of you killing the other, you'll be left with a single spirit. That is worse than having the sickness. This is my theory. I try to propagate it in Turkish politics, among Turkish politicians who demand that the country should have one consistent soul – that it should belong to either the East or the West or be nationalistic. I'm critical of that monistic outlook", Pamuk says.
To be sure, some cultural nationalists might take offence to evoking a foreign author to suggest a correct Idea of India. For them, a mantra from the Rig Veda conveys the same message. Aa no bhadrah kratvo yantu visvatah (Let noble thoughts come to us from every side), it says.
Every Friday, HT's data and political economy editor, Roshan Kishore, combines his commitment to data and passion for qualitative analysis in a column for HT Premium, Terms of Trade. With a focus on one big number and one big issue, he will go behind the headlines to ask a question and address political economy issues and social puzzles facing contemporary India.
The views expressed are personal
This Republic Day, unlock premium articles at 74% discount
Enjoy Unlimited Digital Access with HT Premium
Topics