We are so inured to anti-Muslim bias that we have forgotten Hashimpura
The Hashimpura massacre that killed 42 Muslims shows the history of anti-Muslim bias in India had a root far deeper and older than any single party or ideology. It isn't isolated or exceptional but a result of everyday bias of seeing Muslims as aggressive or crime prone.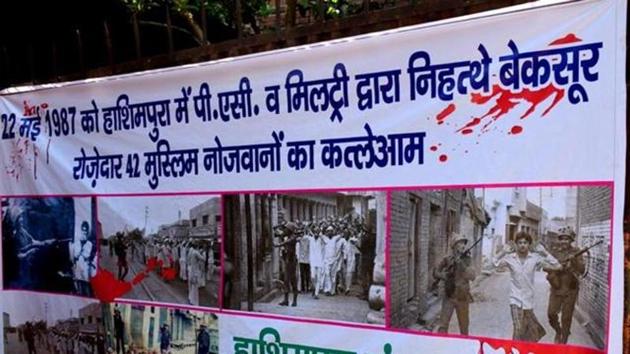 Updated on May 22, 2017 05:55 PM IST
How long do you wait before you give up hope of justice?
Exactly 30 years ago, India witnessed 'the worst custodial killings since independence' as an armed segment of the Uttar Pradesh police gunned down 42 Muslim men in a desolate region of Ghaziabad district on the borders of the national capital in an apparent show of strength as communal violence singed nearby Meerut.
The UP Provincial Armed Constabulary allegedly picked up young men from the Hashimpura neighbourhood in full public view from a hundreds-strong crowd, loaded them onto a truck and drove them to a nearby canal. The forces then apparently shot each person to death one by one, threw their bodies into the water and returned to the camp.
Twenty eight years later, a Delhi court acquitted all accused in the case, citing incomplete investigation and little material evidence. Shortly afterwards, a book by a senior police officer claimed the state government and top officers were involved in covering up the crime even before investigation had started full steam. Earlier this year, newspaper reports emerged that said the state police had destroyed crucial documentation while the trial was on.
I didn't know of this pogrom until five years ago. It ceased to make headlines decades ago and was neatly excised from public memory to be filed in one of scores of such conflagrations in a country riven by caste and religious faultlines. There is little outrage, or even surprise as victims wait for justice, and the grubby Meerut locality doesn't even make it to our discussions of riots and violence.
The experience is identical to that in Laxmanpur Bathe, where Dalit victims of a similar massacre have almost given up hope after a long and dispiriting trial that resulted in acquittals.
Hashimpura taught me that the history of anti-Muslim bias in India had a root far deeper and older than any single party or ideology. The Congress party was in power in UP, and at the Centre, in 1987. Since then, supposedly secular parties have come to power several times in both Lucknow and Delhi but the investigation hasn't moved. Senior IPS officer Vibhuti Narain Rai interviewed the alleged mastermind of the attack who was quoted as saying that he thought Muslims needed to be taught a lesson – an indictment of how deep the hate against minorities had penetrated.
But it would be a mistake to see Hashimpura as isolated or exceptional. As Rai repeatedly stresses in his book, seeing Muslims as aggressive or crime prone or thankless or in need of disciplining is a feeling that's far more pervasive that any civilised society would admit. It is this feeling that ensures neat divisions in supposedly egalitarian places such as schools, colleges or universities. This is why inter-faith marriage results in bloodbath or why our cities, and housing societies, are often cleaved on the basis of religion. This is why we find proxies to articulate our bias such as beef or non-vegetarian.
Had it happened in another time or area, Hashimpura would have been easy to categorise. It would have got more press, more sympathy, more champions of justice. Had we felt comfortable with pinning the category of the violence – a political party that apparently is pro-Hindu and anti-Muslim, cow, intolerance – we would have probably felt more enthusiastic with articulating our support for speedier justice.
But Hashimpura is complex and messy because all available accounts point to it being a burst of the everyday bias against Muslims. It exposes the hollowness of our secular chants and claims that India was a great place before certain ideologies and parties took root. It shows how communally charged our state, police and media can be, and how helpless the victims are in the face of this onslaught. It examines the society as constantly demanding proof of patriotism from particular sections while simultaneously denying them the dignity and camaraderie that comes with that patriotism and citizenship. This why Hashimpura lies forgotten. It is too discomfiting.
Close Story
Personalise your news feed. Follow trending topics