101-year-old Mann Kaur ready to conquer World Masters Games - Watch her train
Updated on Apr 15, 2017 11:17 AM IST
For the last five months, Mann Kaur and her 79-year-old son Gurdev Singh, are training at the Punjabi University, Patiala for the World Masters Games in New Zealand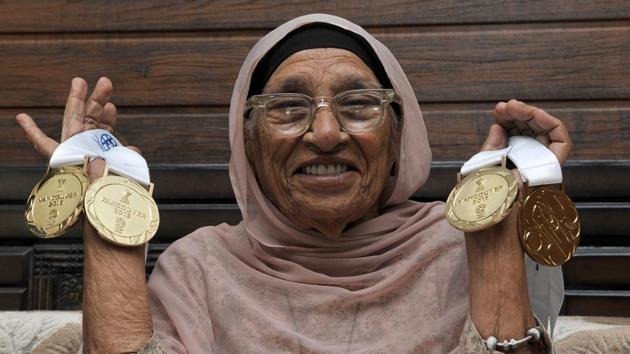 Mann Kaur, a 101-year-old great grand mom, who hit the headlines by becoming the world's fastest centenarian at the American Masters Games in Vancouver last year, is set for another feat.
The Chandigarh resident is eyeing glory at the World Master Games – considered the Olympics for veterans – to be held in Auckland from April 21.
Around 18,000 competitors from 100 countries will compete in 28 disciplines in the quadrennial Games. The versatile Mann Kaur will compete in 100m, 200m, shot put and javelin in the 100-plus category.
For the last five months, Mann Kaur and her 79-year-old son Gurdev Singh, are training at the Punjabi University, Patiala.
"In Chandigarh, the stadium is little far away from our place, and because of her age, I was finding it difficult to take my mother to the stadium daily. So we had to shift our base to Patiala," said Gurdev, a Canadian passport holder who will represent his adopted country in the Games. His previous best in the Games was fourth place in 200m in 2005 and 2009.
"In Patiala, we also got access to the gym. It helped my mother reduce 10 seconds in 100m. Now she is clocking 1 minute, 10 seconds. If all goes well, we will further reduce the timing by four-five seconds."
Mann Kaur started at 93!
Mann Kaur was introduced to athletics only in 2009, aged 93. Two years later, she won the 100m and 200m in the 90+ category in the national masters meet.
While participating in the World Masters Meet in Canada in 2008, Gurdev saw a 90-year-old woman competing and encouraged his mother. "I was hesitant at first…, but later on I started enjoying running," says Mann Kaur, who had worked as a caretaker to the queens of the Maharaja of Patiala, Bhupinder Singh, before Independence.
The secret of her health? "Start the day with a glass of kefir and have chapathies made of sprouted wheat. No fried food."