2018 Commonwealth Games: India beat Singapore in women's Table Tennis to clinch gold
India defeated Singapore 3-1 in the women's Table Tennis competition to secure the gold medal in the 2018 Commonwealth Games.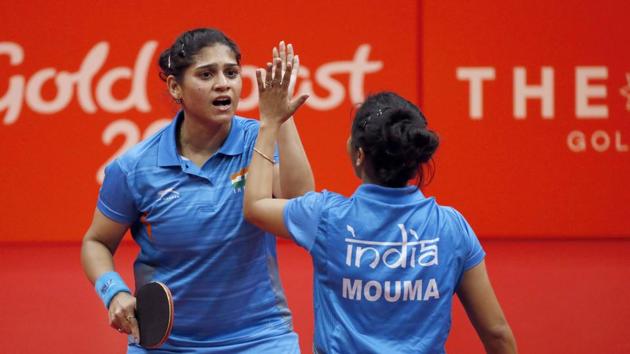 Updated on Apr 08, 2018 08:27 PM IST
Hindustan Times, New Delhi | By HT Correspondent
The Oxenford Studios around 20ks outside Gold Coast has seen many reel life dreams scripted and executed, On Sunday, India scripted a new chapter in women's table tennis by winning the women's team competition at the Commonwealth Games. (CWG live updates)
Manika Batra was in superb form, registering two singles victories as India clinched an unlikely gold by beating a strong Singapore side 3-1 in the final at the Commonwealth Games here on Sunday.
Their peers have been dismissed by many a foreign experts as not even table tennis players because of their lack of fitness and body shapes that not at all athletic in nature.
But this current lot of women table tennis players in the country is hell-bent on changing that image and Manika Batra is a fine example of that new found resolve and image of Indian table tennis players.
Manika, ranked 58th in the world, gave India the lead by winning the first singles match against a player ranked 4th in the World and though Madhurika Patkar lost the second singels, she teamed up with Mouma Das to make it 2-1 for India.
READ | 2018 Commonwealth Games: Manika Batra's change of tactics caught Singapore by surprise
And then it was Manika Batra all the way at the Oxenford Studios. It was Manika who put India on course for victory with a superb opening tie.
In the first game in first match againt World No 4 Feng Tianwei, Manika Batra mixed solid defense blocks with aggression strokes and good serve to come back from a 1-2 deficit to win 11-7, 8-11, 7-11, 11-9, 11-7 and give India the lead.
Manika had a handy 6-2 lead in the second game but the Singapore player clawed her way back to win it 11-8 and then capitalised on some errors by Batra to win the third game.
However, Manika fought back brilliantly, forcing errors from her rival with tight defence mixed with some aggressive forehands to win the fourth game and clinch the decider as Feng Tianwei, who was used sparingly by Singapore in theearlier rounds, succumbed to pressure.
READ | 2018 Commonwealth Games: India scrape past Wales in men's hockey
However, the lead stayed only for few minutes as Madhurika Patkar lost tamely to Yu Mengyu 3-0. She tried to play aggressively as she usually does but could not control her shots against an opponent who showed good defence.
In the doubles, Mouma Das paired with Patkar to win the firs two games 11-7, 11-6 against Yu Mengyu and Zhou Yihan but lost the third 8-11. They showed great energy to take the fourth game 11-7 to put India ahead once again.
And in the fourth match, Manika continued from where she had left off as she won the first game against Zhou Yihan 11-7 raising India's hopes for gold medal. Mixing up spins on the forehand side Manika won the second game, capitalising on the nervousness creeping into Zhou Yihan's game as she won it 11-4.
With her teammates raising in unison to cheer every point Manika kept Yihan in check with some good defensive blocks and broke away from 5-5 to take 8-5 lead. She eventually won it 11-7 to script a memorable victory for India.
Close Story